If you have any questions about how to register or contact volunteers please call Charlotte and our Schools Team on 0207 566 4880 or Steve Iredale from NAHT on 07703 673 420.
Primary Futures Who's in Health?
Who's in Health? is a campaign to get thousands of people from the healthcare sector to volunteer to go into primary schools across the country and chat informally to children about their jobs. The aim is to help the children see the relevance of what they are learning at Key Stage 2 (aged 7 – 11) especially in science, maths and English and to broaden and raise their future aspirations.
Volunteers may be hospital doctors, GPs, nurses, ambulance drivers, high street pharmacists, healthcare assistants, dieticians, surgeons, midwives, students and researchers to name just a few. The list is endless!
Volunteers can register here: http://www.inspiringthefuture.org/primary-futures/
To make this happen National Association of Head Teachers (NAHT), the Medical Schools Council and the NHS have joined forces to try to get volunteers for every primary school in the country – some 23,000. Volunteers and schools will connect via the free online match-making service Primary Futures, run by national charity Education and Employers. Volunteers and schools will be able connect at any time during the year but there is going to be a big push to encourage people to take part in October when the scheme is formally launched.
Watch our short video to discover more about Primary Futures.
For more details and to sign up to Primary Futures (it only takes 3 minutes) please see: http://www.inspiringthefuture.org/primary-futures/
Use our easy steps practical guidance for teachers: Primary Futures Medics Month school sign up guide
Follow us on Twitter @PrimaryFutures and @Edu_Employers
Read the Leadership Focus (September 2015) magazine article explaining how Who's in Health? helps primary pupils see the importance of English and maths.
Free resources
You can download Primary Future 'Who's in Health?' snap cards to play with in your classes.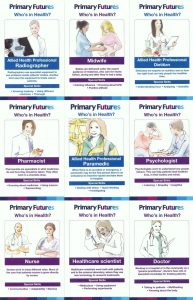 If you would like a free Who's in Health? Snap Card pack to be sent to your school get in touch with our Schools Team by emailing charlotte.lightman@educationandemployers.org or calling 0207 566 4880. Alternatively download your card pack here: Primary Futures Snap Pack PDF