Primary Futures: Resources
Here are some useful free resources about education and employers working together to help primary school pupils.
Finding your volunteers and using the system
Read our top tips for teachers for guidance on finding volunteers, sending your message and how to make best use of the system.
How to use volunteers in a Primary School
This short guide has been developed by primary school teachers to help other primary school teachers and staff think about new ways to use employee volunteers in the classroom and gives tips and suggestions on how to use volunteers to enrich the primary curriculum
Please download the guide here: Curriculum resources (PDF)
Guide to running a Primary Futures event
Easy Steps to running a Primary Futures Whats My Line event (PDF)
 A guide for Primary school leaders on working with employers and volunteers
Read this guide (PDF) for some useful insights into planning your Primary Futures activities.
Advice for volunteers
'Top Tips for Volunteers' (PDF) registering with Inspiring the Future. Read this one-pager to ensure that you get the maximum number of invitations from schools and colleges.
Top tips and guidance for Primary Futures volunteers visiting local primary schools
Free certificates for Primary Futures schools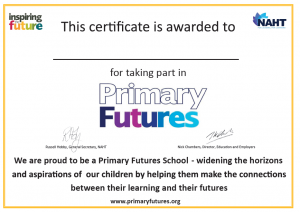 The Primary Futures team, the NAHT and Education and Employers charity are delighted to announce the launch of specially printed and embossed Primary Futures certificates which will be awarded to all schools that have used Primary Futures to invite volunteers to inspire their children and broaden and raise their aspirations.
The certificates are not only being awarded to schools who are using Primary Futures to invite volunteers for activities planned in the future but also those who have run activities in the past. To claim your certificate please email charlotte.lightman@educationandemployers.org
Overview of Primary Futures in Headteacher Update
The free Primary Futures programme offers a way to discuss skills and delivers a feel for the wide world of careers with primary pupils. Former headteacher Steve Ireldale explains.
Read the full article: http://www.headteacher-update.com/resources-article/careers-advice-in-primary-schools/116210/
NAHT key contact
Steve Iredale, Project Manager, tel:07703673420  steve.iredale@naht.org.uk
Education and Employers Head of Schools:
Charlotte Lightman – charlotte.lightman@educationandemployers.org
You can call Charlotte on 0207 566 4880.
Useful websites:
http://www.inspiringthefuture.org/primary-futures/
http://www.inspiringthefuture.org/
http://www.educationandemployers.org/
Follow us on Twitter