Inspiring the Future is a free service for state schools and colleges to recruit volunteers doing a range of jobs to share their knowledge and experience with your students face-to-face. Volunteers come into school to help young people to make better informed decisions about their futures and the value of education.
Before you get started, why not have a read of our top tips for teachers using the system.
We have volunteers from:
all levels – apprentices to CEOs
all jobs – archaeologists to zoologists
all over the UK
Inspiring the Future explained in seconds by our motion graphic cartoon: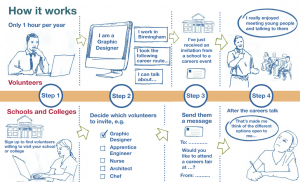 Talk to our Schools team on 0207 566 4880 or email: enquiries@inspiringthefuture.org if you have any questions about how to register.
How to sign up
Follow the link to sign up at the top of the page and click 'Teacher Register here'
Completing your profile
This will take you to the Inspiring the Future portal, where you will be asked to provide a few basic details, and your email address. Once your registration is approved, you will receive an email containing a temporary password.
When you log in using this password, you will be asked to change it to something more memorable. On first entering the portal, we'll ask you to provide a few more details about yourself, and what you need as a school/governor.
Activities you need help with
You'll be asked to select activities that you need help with, for schools this includes- Career Insights, Careers Fairs Mock Interviews, Help with CVs,  or volunteers interested in being contacted about being a school governor. For school governors, you can only message volunteers interested in being contacted about being a school governor .
Finding volunteers to invite
To find volunteers, schools/governors go to 'Find Volunteers' once logged in, and generate a list of volunteers in their area who can offer the activity specified. Schools/Governors can view brief profiles of the volunteers including their jobs, and what they can offer. (Private email addresses and phone numbers are not visible to either party).
Sending invite messages
From the 'Find Volunteers' page, you can message appropriate volunteers and ask them to get involved in an activity they have coming up either individually or on mass.Volunteers accept/decline the event.
After the Event/Activity
If accepted, once it has taken place schools/governors complete automated feedback forms. We ask four or five questions about how the event went. We strongly recommend that this is completed, as it allows us to keep an eye of the quality of volunteers and whether the service is working for both parties. We also use your feedback to report to funders, which will help to keep this service completely free to schools and volunteers.