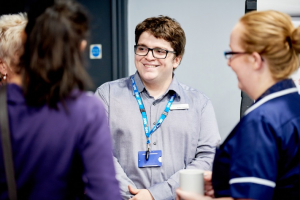 Adam Steward is an Engagement Officer for the NHS Leeds CCG.
"Going with the flow" is the advice Adam would give to young people interested in his career.  This is especially poignant as Adam wasn't aware that this was a career option for him.
Can you give some example of what you do in a typical day or week?
I chat with patients about their experiences; write engagement plans; organise events, workshops, and meetings; deliver training sessions; visit and work with different organisations; promote work on social media; write reports; and do research.
What do you enjoy most and least about your work?
I enjoy working directly with patients and give them a chance to have their say and make a difference in how things work.
My least favourite part is writing up minutes from meetings.
How did you get into your current career?
My A-levels included ICT, History, English Language, and General Studies.
I did a Human Psychology BSc degree at De Montfort University.  After that, I got a job working for Cygnet Healthcare for a year (a private mental healthcare provider) as a nursing assistant.  I then got a new job as a therapy assistant with the same company, which I did for three years.
After really appreciating how much of a difference getting people involved makes, I then got a job as an Involvement Coordinator.  During that time, I started my MSc in Mental Health Practice, which I graduated from in 2016.
After working as an Involvement Coordinator for three years, I applied for the role of Engagement Officer with the NHS Leeds CCG.
What advice would you give someone starting out in your career?
Go with the flow, meet new people, network, and be positive.  I had no idea these jobs existed, but I found my way by just being passionate about the work I do.
Thank you, Adam, for sharing your story with us.
If you're ready to join our team of amazing volunteers and start inspiring the future generation with your story, register to become an NHS Ambassador by clicking here.