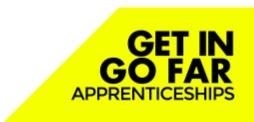 As part of our work on the Apprenticeship Support and Knowledge for Schools project we are working with Amazing Apprenticeships and the National Apprenticeship Service to help teachers who are championing apprenticeships to access further resources and apprenticeship information for their students.
What is an apprenticeship champion?
Are you an inspirational teacher or careers adviser?
Can you positively promote apprenticeships in creative ways to motivate young people?
Are you committed to creating opportunities for students of all abilities?
We're on the hunt for 1000 exceptional individuals in schools across England to sign up to the Apprenticeship Champion Network. Champions will receive a toolkit packed full of useful resources and activity ideas for your school. You'll also be given access to the latest apprenticeship support and information. This fantastic opportunity for you and your school allows you to enter the brand new Apprenticeship Champion category in the National Apprenticeship Awards 2018.
Anyone who is helping to support their students in finding out more about apprenticeship schemes can apply!
To nominate yourself or someone you know please email enquiries@inspiringthefuture.org