On Wednesday 19th June, we took our Inspiring London campaign to the glamorous Guildhall.
We spent the day at the Guildhall in London to raise the aspirations of local young people by opening their eyes to the possibilities available to them in their futures.  We ran numerous sessions throughout the day to introduce a number of students to a range of new role models.
We held two career speed networking sessions with young people from Full Cross Girls' School, Dunraven School, and Lee Valley Academy.  They met loads of fascinating people from a range of different and attractive jobs.  Over the two sessions, these included:
Pradeepan from Praddy Financial Consultancy Ltd
Lyn, who runs her of public speaking business and stayed for both career speed networking sessions (pictured on the right)
Maria from EMEA
Joanne from the Home Office
Louise form BT Property
Andy, who works at Google
Marianela from EAA Portfolio Advisors GmbH
Richard from Brockwell Capital
Sarah from Independent Clinical Services
Harry from Dewynters
Sufina, who works for the City of London Corporation
Kal from Cinven
Angharad from Prudential
Katie, who works for Citizens Advice
Stuart from AKO Capital
Ali from Rathbones Brothers Plc
Ann from the Royal Navy
Hannah, who works for the Royal Air Force
All the volunteers were able to share their experiences with the students and gave them tips on how to follow their career paths.
"It was fun listening to life stories and what they have become," said one enthusiastic student.
"I loved the communication and interactive work we did," said another student about our new bingo and ice-breaker sessions, where students are given clues as to guess what each of the volunteers do.  "And I loved learning about different jobs."
Both sessions were hugely successful, with Harry even giving one student a list of websites to visit for more information about his career and the theatre.  Every student had a chance to speak to all the volunteers in their session to see the range of careers that are available to them and one student said that he "really enjoyed all the volunteers."
Check out more pictures from our careers speed networking sessions: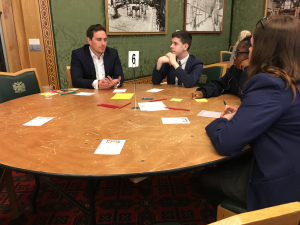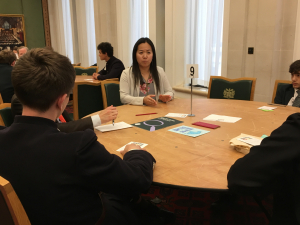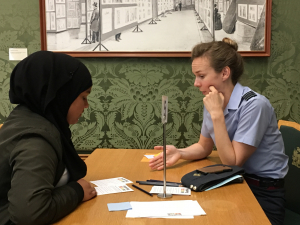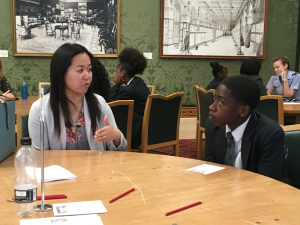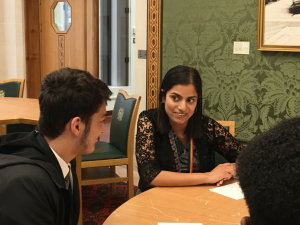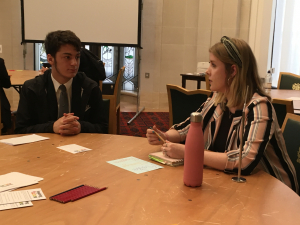 On Tuesday 18th June, Primary Futures was at the Guildhall where we were introducing London primary school children to a range of exciting role models and open their eyes to future possibilities.  Read about it here.
If you're interested in holding one of these events in your school, you can email our schools team at enquiries@inspiringthefuture.org.