Secondary Schools Engagement Manager
Hello! 
My name is Mat and I am the Schools Engagement Manager for Inspiring the Future. I'm passionate about ensuring that you feel supported to plan and organise meaningful encounters with volunteers that inspire your students' futures, so I'm pleased to let you know a little bit more about my role.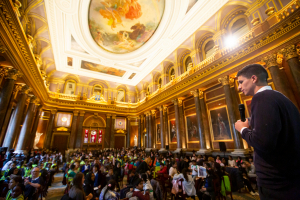 There are lots of ways which I support our schools. Our research team works hard to understand what constitutes best practise careers encounters and planning phone calls are a useful way for me to share our recommendations with schools, especially around the Gatsby benchmarks. They are also a great opportunity to run through the Inspiring the Future technology to make sure schools are confident with using it. 
Once an event has been organised, we can help by shortlisting and inviting volunteers, as well as following up with them. For example, if a school says they haven't quite reached their target number of volunteers, I'm always happy to help them secure a few more.  
We also put schools in contact with our corporate partners to take part in volunteering events with them. For example, this November we have three workplace visits to the Bank of America taking place. I'm always happy to help arrange these with schools as I know how inspiring they are for the students. 
Please never hesitate to contact me if I can help you with any of these things as I'd be glad to help! We're only a phone call away if you get stuck. 
Best wishes, 
Mat