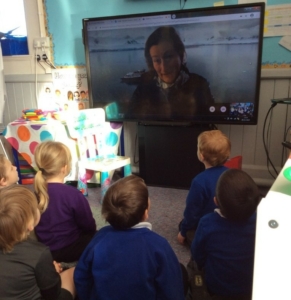 St Breward Primary is a small school in rural North Cornwall with fewer than 50 pupils. The school organised a live virtual session to support their 'polar regions' curriculum topic and invited Inspiring the Future volunteer Kim Crosbie to discuss her job at the Antarctica Heritage Trust.
Kim engaged her young 'polar explorers' in an Antarctic journey, wearing her woolly hat and gloves and with a penguin soft toy in hand. She used lots of videos and photos to tell the story of her life as an Antarctic researcher and her travels to both polar regions, inviting the children to wave at the camera whenever they spotted penguins in her pictures – which was often! She described how the researchers lived day to day in the Antarctic and how they kept their spirits up during the extended rainy season, even when sugar supplies ran out. Children were intrigued by Kim's story of being chased off an Arctic island by a not-so-playful polar bear and another story of an unusually rainy season in the Antarctic which washed penguin poo through their camp. The children were so keen to ask Kim questions that the session ran over time.
For a small and rural school, the virtual session with Kim, who is based in Edinburgh, opened up an opportunity that this school and these young children could never have had face-to-face.
Learn more about virtual activities and how you can plan one for your class.