Prisha is a Digital Marketing Apprentice at Google UK. Prisha has a neurological condition called Sturge Weber Syndrome and was a patient at Great Ormond Street Hospital for over 17 years which she continues to fundraise for (and loves!).
Prisha films videos on her Youtube channel to raise awareness of her condition to help people embrace their visible difference and to not worry what others think. She also films videos on apprenticeship which included vlogging her first week at Google. Prisha is a new Inspiring the Future volunteer, joining our platform in January 2020.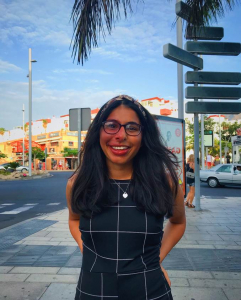 What did you want to be when you were younger?
I actually had no idea! For a little while I wanted to be a physiotherapist.
What is your current job and what does it involve?
I am an apprentice at Google studying for a digital marketing qualification and I am in the EMEA GStore team. I am supporting my team by helping them with campaigns and customer related management and I have been designing emails for EMEA for different campaigns.
What apprenticeship are you doing and when is it due to finish?
I am doing a digital marketing apprenticeship for 15 months with Google. It is due to finish January 2021.
Why did you choose an apprenticeship?
I did a work experience placement in digital marketing with Great Ormond Street Hospital (GOSH) and I fell in love with digital marketing during that week. I learned a variation of things during the work experience that made me want to have a career in it straight away. I learnt that GOSH could track and analyse their posts. I posted pictures on their social media and learnt how their process worked and then was able to track engagement. I was going to study International Management at Warwick University but during Year 13 I started applying for the apprenticeship because I knew I wanted to work straight away and learn on the go! I also started filming videos on YouTube and enjoyed learning how to edit. On results day after receiving grades that I never thought I'd be able to achieve (A*A*A), it made me want to choose an apprenticeship even more because I want to show apprenticeships can be for anyone and it is a successful way to start your career.
What path do you hope to take after your apprenticeship?
I am hoping when I finish, I will continue my career in digital marketing and to continue to raise awareness of apprenticeships and my chronic condition on my YouTube Channel.
How do you value your apprenticeship?
Even though I've only been here for a few months, I can tell that this has been the best decision. Not only has working at Google been a dream of mine for so long, I have learnt so many different things in the past few months. From being in charge of campaigns, to sending out emails in different countries, I feel super grateful to have been given this opportunity and learn from such amazing people.
Any advice for someone thinking about taking an apprenticeship?
Just apply and go for it! You never know what will happen! I applied through an Instagram advert and after seeing it the first time I didn't apply because I thought I wouldn't get it but after seeing it the second time I applied, and I couldn't be more thankful to be here. I was worried that not going to university would stop me from getting my dream career but taking this apprenticeship has proven to me you don't need to go to university to be successful. My skills have grown within three months, especially my confidence and I am super excited for the future.
And any tips on getting into your current line of work?
Check Whitehat apprenticeships.
Are you excited to share your apprenticeship story with young people through Inspiring the Future (and why)?
Yes, for sure! Raising awareness of apprenticeships has been something I have wanted to do ever since I found out I got it. It's so important to me that young people know that there are other options available other than university. I am hoping that filming my journey on my channel will help others realise what apprenticeships are like and how they are beneficial.