Secondary Schools and Colleges
Inspiring the Future is a free service for state schools and colleges to recruit volunteers doing a range of jobs to share their knowledge and experience with your students face-to-face. Volunteers come into school to help young people to make better informed decisions about their futures and the value of education.
Before you get started, why not have a read of our top tips for teachers using the system.
We have volunteers from:
all levels – apprentices to CEOs
all jobs – archaeologists to zoologists
all over the UK
Inspiring the Future explained in seconds by our motion graphic cartoon: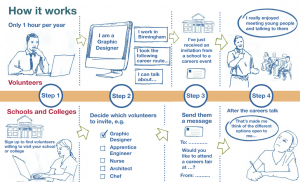 Talk to our Schools team on 0207 566 4880 or email: enquiries@inspiringthefuture.org if you have any questions about how to register.