Emma is the Assistant Vice Principal and a Careers Leader at Castle View Enterprise Academy.  Recently, she became an Inspiring the Future Ambassador.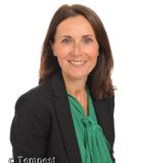 What previous experience of using Inspiring the Future do you have?
Inspiring the Future has been instrumental in developing our Career Insights programme by helping us to connect with a wide range of inspirational speakers. Through these talks and other related career activity, we have been able to broaden our students' horizons and their understanding of the world of work.
Why do you think it's important 
to provide young people with meaningful employer encounters?
There has never been a time when careers guidance has been as important for young people as it is today. The landscape of education, training and employment opportunities that students need to navigate is more complex and more challenging than that faced by previous generations. By giving our students a wide range of opportunities to have meaningful encounters, our students are able to make aspirational, realistic and informed choices; develop the skills, aptitudes and attitudes to achieve their personal best; and are well-prepared for their post 16 pathways and the world of work.