Stephanie is one of our Inspiring Future Theatre Ambassadors. She signed up to inspire children and young people about the jobs available in the theatre industry. As one of ambassadors from the theatre industry, Stephanie is helping us to showcase the range of careers available, from roles on stage to those behind the curtains. She recently visited a local school to do just this, and in this short blog post she talks a bit about why she signed up, and her career journey: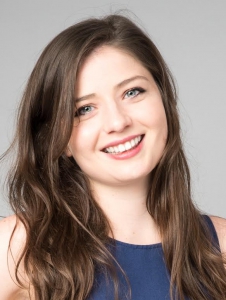 "The theatre has always had a place in my heart and I am enthusiastic to show young people that you do not have to be a performer to be a part of creative industries. I think it is important they know that they do not need to know what their dream job is right away. For me, I chose a sector, not a job; now I am in an industry I am passionate about and can continue to develop my knowledge of and skills within that sector.
As a child, I was a member of Devon and National Youth Theatre as well as young people's theatre companies at the Theatre Royal and Barbican Theatre in Plymouth. The passion, enthusiasm and determination of the people running these theatres and youth organisations inspired me to be a part of the industry.
I love working with and learning from a team of highly skilled colleagues at HQ Theatres; I am given the independence to manage projects and support to see them through to the end. I studied Sociology with Law at Durham University and spent my extracurricular time acting in, producing, directing and stage-managing plays. I was able to develop both my creative and analytical skills before starting my career.
The Inspiring the Future platform was easy to navigate and opportunities were easily available to browse. A local school messaged me directly once I signed up as an industry ambassador. I received it in my email and was able to respond directly using the platform. My organisation is keen for me to get involved with volunteering and the team are enthusiastic to introduce and encourage young people to join our industry.
The advice I would like to give to young people is that everyone's career is a journey that is subject to change. Part of the fun is the skills you develop along the way."
Thanks for sharing your story with us Stephanie.
Do you work in theatre, or know someone who does? 
In partnership with UK Theatre and Society of London Theatre (SOLT)  we have an ambitious target of signing up 1000 ambassadors from the theatre industry by 11 July. Help us achieve this by signing up, and encouraging all your friends in theatre to do the same. You can read more about this campaign and sign up here.