This week is Volunteers' Week, an annual celebration of the contribution volunteers make across the UK. It is wonderful to be able to celebrate the amazing work Inspiring the Future volunteers have been doing over the past year. From assemblies and career talks in schools, to careers fairs, work experience and participating in our new virtual interactive sessions, volunteers have collectively given an incredible amount of time and effort to motivate and inspire children and young people, broadening their horizons and raising their aspirations.
Since last June, Inspiring the Future volunteers have helped 225,124 children and young people across the UK. This is a remarkable achievement and demonstrates the passion volunteers have and the support they give. Our volunteers contribute from an hour a year to many hours, and make a real difference to the lives of young people.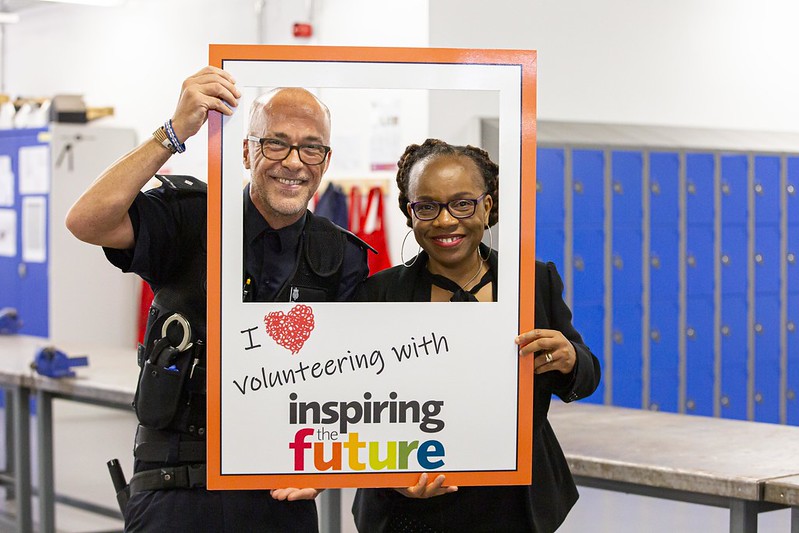 Here is some feedback from students participating in one of our recent virtual sessions:
"It 

opened my eyes

 about different areas of work, and other ways of getting there.  It also enabled me to talk to real people who have reached career levels that I aspire to."

 

"

This helped me to understand that learning doesn't stop at school, but carries on throughout life

. 

 

 

"

I learnt that 

there is a variety of different jobs

 in the world and I don't have to settle for one at a very young age."

 

 

"Lots of 

lessons you learn in school

are useful in the long run."
Commenting on their experiences with Inspiring the Future, teachers said: 
"This was an amazing opportunity and the children were really engaged and inspired. The volunteers were 

fantastic role models and gave their time generously

 to talk to the children and answer their questions." – Sandy Shepard, Bishop Henderson Church of England Primary School

 

"There were 

professionals there that the students would never have access to

 so it was a wonderful experience for them" – Teresa Crowley, Notre Dame Roman Catholic Girls' School

"Though the children I teach are only Primary age, they found it a very worthwhile experience and 

there was a real buzz across the school

. Thank you to your superb volunteers!" – Mark Pollard, Penpol School

 

"All volunteers were 

amazing and so engaging

 with the children. It was so successful as the volunteers had all planned to bring information and activities to complete with the children. It was fantastic and we are so grateful." – Sue Udall

 

"The volunteers were 

friendly and supportive

 and gave our learners a good insight into their roles as well as ideas of what they could achieve, skills required, the job market and resources." – Ceri Wood, Hopwood Hall College

 

"As usual, our guests were 

absolutely amazing

. They gave up their valuable time to impart their

 wisdom and advice

, and all of our pupils benefitted immensely. Thank you all."  – Teacher

 

 
And finally, Inspiring the Future volunteers told us why they support our work: 
 

"I have genuinely loved it. It's been such an amazing thing to do and the reason I've enjoyed it so much is because I love seeing the response from the young people and 

knowing I have made a difference

 in one way or another." – 

Daniel Duffield

 

 

"I hope to instil belief in the children, to 

become the success I know they can be

. I imagine a day when the next generation elevate the generation coming behind them." –  

Chukwuma Anolue

 

 

"It's important for young children to know that there are many more career opportunities available, many of which they will probably be aware of until they attend an Inspiring the Future event…  Even if just one child suddenly realises that "

That's the job I always wanted to do, but never knew it

", then this is all worthwhile." – 

Raj Kanwal

 

 

"I believe that young people are under so much pressure to achieve and be top of everything they do.  To instil in young people that they are highly regarded, give an insight into what can be achieved, and the different paths young people can take to get there is important.  Also, giving the information and motivation to 

change "I can't because" to "I can"

 is paramount in my opinion." – 

Una Madill

 
 Once again, a huge thank you to Inspiring the Future volunteers for sharing such valuable career journeys and advice with students. Hearing from real people with tangible experience is a positive turning point for so many young people – and we couldn't do it without you. 
Join us on Twitter where we are celebrating throughout the week.