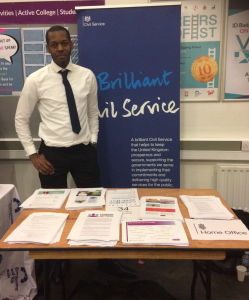 "As well has helping others, volunteering opens you up to yourself and your true ability. The power is not outside of you, the power is within you."
Name: Chukwuma Anolue
Job title: Executive Officer
Organisation: Home Office
Can you tell us a little bit about your role?
My current role involves managing staff, data quality work on our systems and dealing with the public. Every day is different which really suits me because the variation helps me to develop my skills and gives me the ability to adapt to different situations. It also gives me scope to help others and to empower others to believe in their abilities.
How did you get to where you are today?
After leaving University, many many years ago ;-), I joined the Home Office via an agency, then was made permanent. In life you can so easily drift along, not believing in yourself. I guess there was a point where I felt that I needed to make a change and what could be a better way then volunteering internally and externally. Volunteering gave me the confidence to speak to different people and the skills I have obtained helped me to be promoted.
What did you want to be when you were in school?
When I was in school I wanted to be involved in finance. I think it was more to do with economic potential rather than a real interest in finance. In retrospect, I would have probably flourished more with subjects which had a creative element to it.
Who or what inspires you, and why?
My faith inspires me because it introduced me to my true self, not the self that I thought the world wanted me to be. It is only when you are truly yourself, you can discover your true ability and capability. This is one of the messages I drive at volunteering events. Pupils and students have so much potential, but it is about believing in who are so you can tap into that potential to change the world.
When did you begin volunteering with Inspiring the Future, and why did you decide to start?
I began volunteering in 2018. I decided to start because I enjoy helping others and felt I could use my journey to empower others. It took me a long time to believe in myself, to believe in my abilities. Eventually I decided that there may be children like me who just need that encouragement and support with their skills and talents. You can be a leader right now and bloom where you are planted. I hope to instil belief in pupils and students, to become the success I know they can be. I imagine a day when the next generation elevate the generation coming behind them.
There's an analogy that I think about, which is a mango tree. A mango tree grows from a seed, it serves delicious fruit, but the tree cannot feed on it. In the same way, we as humans are the tree. We have so many skills, talents and gifts to serve to the world. We cannot serve the world if we keep all our abilities to ourselves. The more we refine our skills, talents and gifts, the more we can enrich the world. The more I can encourage others to learn, the more they can develop their skills to benefit others.
What Inspiring the Future activities have you participated in so far?
My first event took place recently at Epping St John's School. They started their new Sixth form and their Year 12 and 13 students were looking for guidance with regards to Universities, advanced apprenticeships and the world of work. Their coordinator Vivien Madden was so helpful and ensured I had everything I needed for the day. I had some really engaging conversations, especially with one of their students who could speak three languages. I thoroughly enjoyed the experience
I have also attended some events at Enfield County for Girls. The most recent was a Careers Speed Networking event, where pupils were given an allocated amount of time to ask me questions about my role and my path to get there. I really enjoyed the event as it allowed me to draw on different experiences and to give advice based on what I had learnt.
How have you benefited from volunteering with Inspiring the Future?
The benefit has been immense. Volunteering has developed my communications skills as I have spoken to pupils, parents, teachers and fellow volunteers. It has also helped to develop my Powerpoint skills as I created a presentation about working for the Home Office and delivered it to pupils at Oasis Academy Hadley, Enfield. The presentation helped me to uncover my creative ability as I merged working for the Civil Service (in general) into the presentation. There is also a lot of satisfaction in empowering others. I have brought colleagues to events which has brought them so much confidence and belief in themselves. Volunteering has also brought me so much confidence and greatly contributed to me being promoted last year.
What would you say to those thinking of joining our volunteer community? Do you have any tips/ advice?
You have something to offer as you are unique. There is no one else like you in this world, so no one has experienced what you have experienced. As well has helping others, volunteering opens you up to yourself and your true ability. The power is not outside of you, the power is within you.
If you could give one piece of advice to a young person, what would it be?
Believe in yourself, believe in your talents and abilities. Do not let anything go wasted. If your talent is showing kindness and helping others, do it joyfully. Do not be scared of challenges. Do not be afraid to fail as they are only stepping stones to success.
Sign up to enable your students to hear from passionate volunteers like Chukwuma
Become a volunteer and share your story