Bank of America Merrill Lynch Volunteers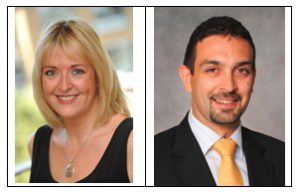 Miriam Muller – Director, Fund Solutions Group, and Paul Coles, Head of Trade Risk Distribution, Global Transaction Services, EMEA at Bank of America Merrill Lynch
In early May, Miriam Muller and Paul Coles from Bank of America Merrill Lynch joined a group of volunteers from a range of professions to conduct mock interviews with Year 10 students at Queens Park Community School. The purpose was to provide the students with examples of real interview situations. At the end of the session, the volunteers completed feedback forms for each student, which were added to their school file.
"Whilst going back to school felt a little daunting at first," said Paul, "it seemed like a great opportunity to be able to share the benefit of experience with some students that, in all but one of my cases, had never been in an interview scenario before."
Armed with a set of pre-determined questions, each volunteer interviewed 15 students, all of whom had recently arranged work experience at a variety of organisations.
"I found the experience very rewarding and was genuinely impressed with the bright, enthusiastic and well-rounded individuals I had the pleasure to meet," said Miriam. "It was really impressive to see that the majority of the students had very detailed CVs in terms of accomplishments and extra-curricular activities, particularly when you consider that they are only 14 – 15 years old. One of the girls I spoke to was involved in an anti-bullying council, captained the girls' football team, is member of a Taekwondo club, a volunteer in the Afghan Association Charity, plays the piano and still maintains high school grades. One of the boys I spoke to had completed the bronze Duke of Edinburgh award (along with many of his classmates), is a member of the Air Cadets, volunteers with the homeless and plays football with a local club."
"It was also surprising to note how many of the students already had a clear career path in mind towards which they are steadily working. It was somewhat of a humbling experience when I think of my 15 year old self!"
Miriam continued, "For the students with fewer activities mentioned in their CVs, the challenge was to find areas of interest and to draw them into conversation on those topics. I think that many of the students surprised themselves with how much they had to say once they got going. I had great admiration for the courage of one particularly shy student who had arranged work experience in a retail customer-facing role, which will really take her outside her comfort zone."
"For me," added Paul, "it was interesting to see how some students were very much influenced by their family in their choice of work experience and ultimately career aspirations, whereas others were already much more open-minded and keen to explore various avenues."
Miriam, Paul and the other volunteers gave the students valuable tips on how to accentuate their accomplishments in their CVs in order to secure that all-important first interview. They also encouraged each student to take every opportunity to highlight their strengths when in conversation, and explained how to truly engage in a dialogue with the interviewer, rather than having a "question and answer" session.
Paul added, "Some needed to be coaxed into giving information, others were already quite natural and therefore able to ask some very pertinent questions that would help them to fine-tune their interview techniques. Overall the standard was much higher than I would have expected, and it was really encouraging to see the school actively helping the students prepare for their futures."
Overall, both Miriam and Paul thoroughly enjoyed the experience and were pleasantly surprised at how engaged the students were in the activity, and how seriously they took the whole process. "We found the whole experience very rewarding and hope that the students will be able to use their learnings to full effect in the future," concluded Paul.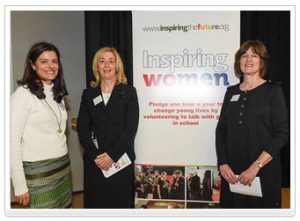 Inspiring Women founder Miriam Gonzalez Durantez with Gillian Lancaster and Jane Phillips
Global Markets Technology & Operations executives Gillian Lancaster and Jane Phillips recently took part in a Careers Fair networking event at Mulberry School in East London.
The event, which is part of the Inspiring the Future/Inspiring Women initiative, was attended by students aged between 14 and 16 from Mulberry School, Swanlea School and Bow School.
Gillian and Jane were joined by volunteers from a range of companies and backgrounds including the Royal Navy, Google and Facebook.
Praising the success of the event, Gillian said, "I have attended a number of speed networking events before with Inspiring the Future, but this one particularly stood out for me as the students were so engaged and genuinely interested to learn about the career paths of the volunteers."
The format invited six to eight female students to visit tables hosted by the volunteers to ask questions on their current role and how their careers had developed.
"Students were particularly interested in how I had made my initial subject choices for A-level and how those choices had impacted my career development," commented Jane.
"They were also keen to find out if I knew what I wanted to do when I was their age. I think were pleasantly surprised that most of the volunteers told them the same thing – many of us did not, and that keeping your options open was not an issue as career paths developed over time'.
In thanking the volunteers for their support, a Mulberry School teacher said, "These events have a big impact on the girls – they will talk about this interaction for many days to come, not only to the other girls who attended but also to their friends who couldn't attend''.
"It was such a rewarding way to spend the morning and if some of the information and advice helps just one of the students in their future career choices it was time well spent," added Gillian.
Ursula Murphy, Global Banking and Markets Risk & Neil Boosey, Global Technology and Operations, Bank of America Merrill Lynch
As part of BofAML's position as key strategic partner and lead corporate supporter of the charity, Education and Employers, all UK staff are encouraged to volunteer at local schools to help develop and coach students as they approach critical career decision points in their lives.
As part of the Inspiring the Future programme, on 5 March, Ursula Murphy and Neil Boosey participated in a Speed Networking Event, part of the annual careers fair hosted by the London borough of Newham. They joined volunteers from a variety of departments across the bank to talk to students aged 16-17 from The London Academy of Excellence, a Sixth-form school located in Stratford.
"The format was very simple – two, hour long sessions, consisting of c. 30 students divided onto five tables. The volunteers rotated between the tables every 10 minutes. Each student had an opportunity to ask questions of their choosing or from a list. Despite their disadvantaged backgrounds we were so impressed with their confidence and focus. One girl in particular asked "What can I do today to move my career in the direction I want" demonstrating real motivation and ambition. Perhaps unsurprisingly, we were also asked "How much do you earn?" by one boy!
The conversation flowed naturally and the students showed real interest in banking careers. We were even asked how to apply for a BofAML internship. As each rotation was up against the clock, the questions came thick and fast. This made for a fast-paced, fun atmosphere and we came away happy to have participated.
Feedback from teachers and students following the event showed they found the experience worthwhile:
"It was a great chance for students to ask their questions about banking."
"It was interesting to see the different types of jobs you can do in one institution."
"Everyone was very friendly and it was really helpful to get an idea of what I need to do if I want to work in finance."
"I thought finance was really boring but actually the session made me think it could be a good career choice."
We thoroughly enjoyed the experience of meeting and helping so many young people in such a short space of time – and did our best to provide simple pointers by way of advice. We'd both do it again and highly recommend to anyone who is interested. Huge thanks and appreciation go to Rebecca Dodsworth of Education and Employers, and Newham College for organising and hosting a very productive and enjoyable experience."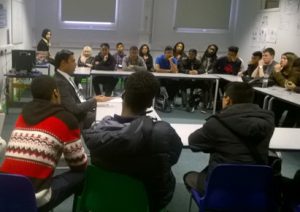 Bruce Meuli & Jonathon Traer-Clark, Global Transaction Services, Bank of America Merrill Lynch
As part of BofAML's position as key strategic partner and lead corporate supporter of the charity, Education and Employers, all UK staff are encouraged to volunteer at local schools to help develop and coach students as they approach critical career decision points in their lives.
As part of the  Inspiring the Future / Inspiring Women programme, in February 2015, Bruce Meuli and Jonathon Traer-Clark from the bank's Global Transaction Services team participated in a Careers Fair at the Convent of Jesus & Mary Language School in North West London. They joined about 20 other volunteers from a variety of professions and backgrounds to perform mock interviews with girls aged 12-15.
"The format was very simple – we had seven standard questions ranging from 'tell me about yourself' to 'where do you see yourself in five years'. As interviewers we tried to get the girls to relax and learn various techniques about how to conduct themselves in an interview, the role of body language and what constitutes a good answer. The scope of the girls' experience, knowledge and background impressed us both. One lady had very clear ambition and a strong sense of what she was good at, another showed enormous passion for playing the piano, and several impressed with their knowledge of the classics. The conversation naturally flowed outside the defined questions – but the goal was always to allow the girls to understand that personality is just as important as academic qualifications and experience. Several showed very clear ambition – with one lady in particular having arranged a week of work experience by herself.
We thoroughly enjoyed the challenge of meeting and helping so many young people in such a short space of time – and did our best to provide simple pointers by way of advice. We spoke to the power of understanding what messages you wanted to leave in the interviewer's mind, and how the girls' energy and enthusiasm was so important.
We'd both do it again and immensely enjoyed the experience –our thanks and appreciation go to the Education and Employers and the school for organising and hosting, what we felt, was a very beneficial event."