Bank of America is key strategic partner and lead corporate supporter
The company's partnership began in 2012, and has enabled Inspiring the Future to go from strength to strength. Currently more than 35,000 volunteers are signed up to give inspiring talks to students, which includes 1,000 employees from Bank of America.
About Bank of America 
Bank of America is guided by a common purpose to help make financial lives better, through the power of every connection. They deliver on this through responsible growth with a focus on environmental, social and governance (ESG) leadership. ESG is embedded across their business and reflects how they help fuel the global economy, build trust and credibility, and represent a company that people want to work for, invest in and do business with. It's demonstrated in the inclusive and supportive workplace they create for employees, the responsible products and services they offer clients, and the impact they make around the world in helping local economies thrive. An important part of this work is forming strong partnerships with not-for-profits and advocacy groups, such as community, consumer and environmental organisations, to bring together their collective networks and expertise to achieve greater impact.
Learn more at about.bankofamerica.com, and connect on Twitter @BofAML.
How Bank of America supports the Inspiring Women campaign
In addition to providing programme funding, the company has also supported the campaign through capacity building initiatives such as hosting careers fairs to give young people an insight into the diverse range of careers at the bank and a chance to work one to one with volunteers to develop their CV. The charity is supported further including:
Employees from Bank of America's offices, including regionally in Chester, Bromley and Camberley volunteer their time and skills with young people at Inspiring the Future events helping to impact 629,729 young people to date.
The company's EMEA Regional Compliance and Operational Risk Executive, Jennifer Taylor sits on the Education and Employers Taskforce Board of Trustees
Support to launch Inspiring the Future in Ireland, launch event hosted in the National Gallery in Dublin with support from the Tánaiste and Google.
Nick Chambers, CEO, Education and Employers said:
"Our partnership with Bank of America has enabled our charity to go from strength to strength to reach as many young people as possible through our programmes. As well as providing financial support, over the past 7 years, more than 2,000 of their employees have shared their time and skills with students across the country. They have volunteered across a range of activities from careers insight sessions with students, to becoming school governors – contributing more than 5,000 hours of their time."
Jennifer Taylor, Compliance and Operational Risk Executive, Bank of America said:

"As Inspiring the Future's lead corporate supporter, we believe that educating the next generation is crucial for a strong economy and for successful communities. We are particularly encouraged by the launch of Inspiring Women in Finance, which will help broaden young girls' horizons and awareness of the many types of careers available to them in financial services. Our aim is that through our collaborative efforts with partners, we can educate, inspire and motivate more young women to consider a career in finance."
"We are extremely proud of our association with the Inspiring Women campaign which already provides such valuable counsel to young women across the UK. The programme's international expansion to China is very exciting as it will give even more young women the opportunity to gain a better understanding of the vast array of career options available to them.
"It is through programmes such as this that Education and Employers are making great strides in helping to break barriers for women to enter particular industries. Ultimately, these efforts will improve workplace diversity which is essential in today's modern business world. I hope that companies across China will sign up to Inspiring Women so that together, we can all help young women around the world, to realise their potential, take charge of their futures and become tomorrow's leaders."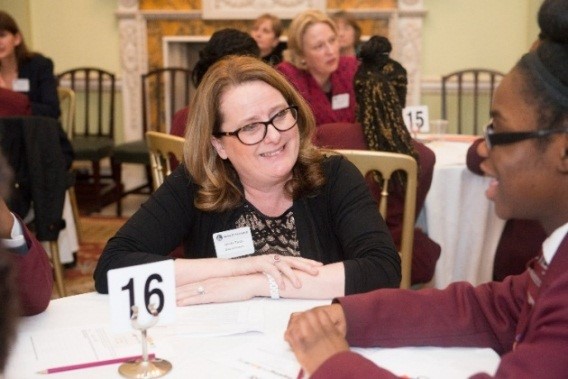 Jennifer Taylor networks with students at the Inspiring Women in Finance event.