Sign up to our free self-service national network to invite volunteers from different jobs, sectors and career routes to visit your school or college, in-person or virtually.
Relatable role models and fresh perspectives
Meeting real-life role models 'like me,' as well as volunteers with different life experiences to their own, is a simple yet effective way to help your students:
see the relevance of classroom learning to their futures;
boost their motivation and attainment;
broaden their horizons; and
get first-hand, practical advice about the world of work
Developed with teachers, our evidence-based service is open to all state schools and colleges. Just sign-up or login to:
Plan live employer encounters
Connect with volunteers who live or work locally for in-person sessions, or arrange virtual encounters with our national network of workplace volunteers.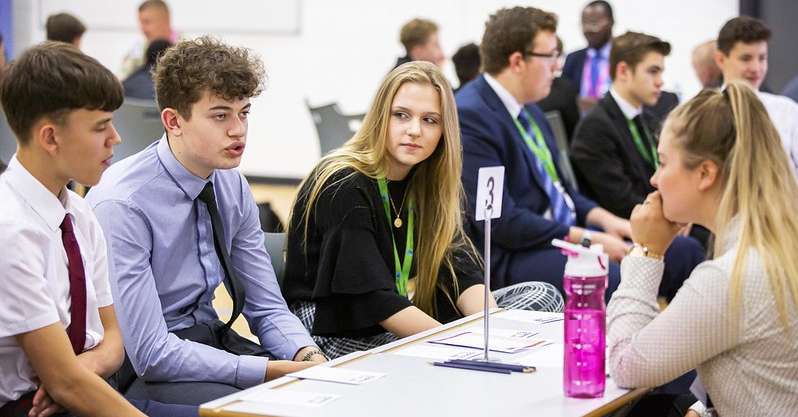 From apprentices to CEOs, barristers to broadband technicians, get direct access to our diverse range of volunteers to support your existing activities or create new sessions to suit your needs. Popular activities include career talks, speed networking, CV workshops and mock interviews.
Use our pre-recorded sessions and video resources
Pre-recorded sessions
Featuring workplace volunteers, accompanying activities and inbuilt interactivity and reflection, our pre-recorded video resources fit easily into timetabled lessons and are suitable for KS3 and above. Recent titles include Enterprising Minds, NHS Everyday Heroes and Careers in Sustainability (all 30 mins approx).
icould video resources
Encourage your pupils to explore real-life career videos on our student-facing site, icould.com. Videos are two to four minutes long and provide personal insights on education choices, career paths and jobs. Use to support live employer encounters or as a standalone resource.
Access practical guides and resources
Get the most from Inspiring the Future with our support materials. These include lesson plans and student worksheets, how-to guides and videos, on-demand teacher webinars, and ideas for activities and meeting the Gatsby Benchmarks.
100% of respondents in our school survey would recommend our service to other schools or colleges.
Benefit from tailored support
We are a small, friendly team and are here to help! Call us on 0207 566 4880, email enquiries@inspiringthefuture.org or use our online calendar to book a short planning call.
Be part of Inspiring The Future.
Safeguarding
We are committed to providing safe and supportive environments for everyone involved in our organisation and the work we do. See more about Safeguarding.