Ever wondered what Cadbury UK Ltd, Boots Opticians, The Ritz Hotel (London) Ltd and Bell Decorating Group Ltd have in common? They are all members of the Royal Warrant Holders Association who very kindly joined us, amongst others at Featherstone High School to help educate young people about the different options available to them after school.
Companies are granted a Royal Warrant in recognition of the goods or services they supply to the Households of HM The Queen, HRH The Duke of Edinburgh or HRH The Prince of Wales. QEST, the Queen Elizabeth Scholarship Trust, is the Association's charity and was established in 1990 to support craftspeople working in Britain.
As part of our National Apprenticeship Week celebrations, we held a 'Speed Careers Networking' event at Featherstone High School in Ealing in partnership with the RWHA, to help their students learn more about the wide range of careers and options available to them, including apprenticeships.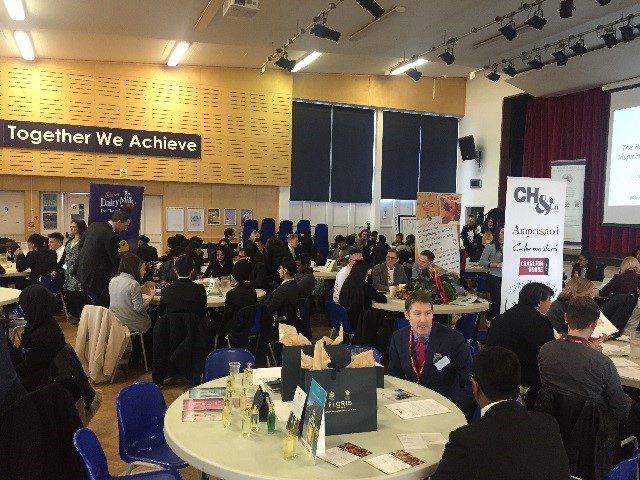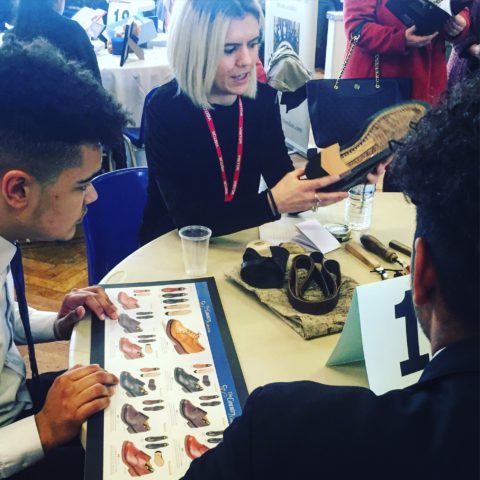 The event was kick started with introductory remarks from Mr Wadwa, Head Teacher at Featherstone High School and Deborah Pocock LVO, Executive Director at QEST; followed by a short talk from current QEST apprentice, Adele Williamson, who shared her experiences of doing an apprenticeship with one of the longest established shoemakers in England, R.E. Tricker Limited.
Over 50 RWHA and QEST volunteers from a range of levels from young apprentices to owners and directors, came together to talk to 150 students for a 'Careers Speed Networking' activity, where they were asked questions about the world of work and the different paths they can follow. Amongst other companies present were staff from the Royal Household, Garrard and Co Ltd (the oldest jewellery house in the world), James Lock and Co Ltd (the world's oldest hat shop) and Jeroboams Ltd (provision of farmhouse cheeses). There were also a selection of current apprentices in attendance, including two security apprentices at BT, a diestamping apprentice at Barnard & Westwood (fine printers and bookbinders), a 1st year painting apprentice from Bell Decroating Group Ltd and more.
Mr Wadwa, Head Teacher at Featherstone High School stated "We are very grateful to the Royal Warrant Holders Association and Inspiring the Future for giving our students a real insight into such a wide range of careers. Our students were full of praise for over 50 volunteers from a number of Royal Warrant-holding companies who generously volunteered to be with us today."
Mr Wadwa went on to say that  "Featherstone High School places strong value on high quality careers advice which we know has many benefits for our young people both in short term in supporting correct subject choices but also longer term when making choices about employment". He advised the students of fully engaging in such opportunities stating that "Research now shows that young people who engage in more careers events have higher salaries on average in 10 years' time."
Richard Peck, Secretary, the Royal Warrant Holders Association said "This was an outstanding event, which appeared to be as inspirational for companies as it was for students. It was incredibly inspiring to talk to so many young, engaged people with some really interesting questions. The value of these events is immeasurable because they provide the students with vital information and an insight into careers and opportunities in the work place."
The event was run as part of the Apprenticeship Support and Knowledge for Schools Project.
Thank you to all the Royal Warrant holders who were able to attend and to the students of Featherstone High School for their insightful and engaging questions!
If you'd like to register with Inspiring the Future as a volunteer or on behalf of a school visit our website ee-itf.helpful.ws.
View the photos from the day on our Flickr.
Follow us on Twitter @InspiringTF
Career Speed Networking Participants:
Barnard & Westwood Ltd
Montmartre Patisserie Ltd
Bell Decorating Group Ltd
Boots Opticians
Garrard & Co Ltd
CH & Co Catering Ltd
Fortnum & Mason Plc
BT
Halycon Days Ltd
The Caverswall China Co. Ltd
J. Floris Ltd
James Lock & Co Ltd
Jeroboams Ltd
Peter Jones
R.E. Tricker Ltd
Royal Household
Cadbury UK Limited
The Ritz Hotel (London) Limited
QEST
RWHA
Inspiring the Future