Are you ready to inspire the future of Dorset?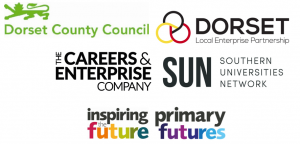 Inspiring the Future, Southern Universities Network (SUN) and Dorset County Council (DCC) are delighted to be working together on a programme of inspiring events for children in primary and secondary schools across Dorset. Inspiring the Future Dorset will connect primary and secondary schools in the area with a huge range of volunteers from local organisations to broaden children's horizons and show them that by working hard at school, they can be whatever they want to be. The aim is to significantly increase the number of volunteers registered with Inspiring the Future in the Dorset region, making it easier for schools in Dorset to connect with volunteers from the world of work. We will also be supporting schools to run ongoing activities with volunteers.
How can you get involved? Schools who would like to be a part of Inspiring the Future Dorset, please contact charlotte.thurston@educationandemployers.org and use this link to register.
If you live in or near Dorset and would like to volunteer to go into local schools and talk about your job, please sign up to Inspiring the Future:
Use this link to register and volunteer for Inspiring the Future Dorset
Complete our quick registration process adding the postcodes you can volunteer from and information about your role
Select 'Career Insights' as an activity and any other activities you are interested in
Once registered, you will receive an email with more information
Respond to invitations from schools that will arrive directly to your inbox and use our interactive maps to search for opportunities near you
Connect with the teacher to plan your activity, whether that's giving a classroom talk, participating in a careers carousel with other volunteers or delivering an interactive workshop
If you have any queries please contact the Inspiring the Future team.
Katy Hampshire, Director of Operations and Programmes at Education and Employers, said:
'We are delighted to be working with SUN and Dorset County Council to excite and motivate young people about the world of work and how what they are learning in school relates to the wider world. Through Inspiring the Future's national online platform, volunteers who work or live in Dorset can easily be connected to primary and secondary schools and colleges to chat informally to young people about what inspired them to follow their chosen career and how the educational route they chose helped them to achieve it.'
Rosie Knapper, Senior Advisor – Post-16, Skills & Progression, Dorset County Council, said:
'It's really important for children to think about what they want to do when they grow up and talk to employers about jobs and the world of work to help them to make good choices about their futures.  These conversations need to start in primary school to support their aspirations.
Research tells us that regular interactions with employers in primary and secondary schools help young people to understand the importance of what they are learning, support their achievement and increase outcomes for living happy healthy prosperous lives.'
The Dorset Young Researchers 2018 survey of nearly 3,000 Dorset teenagers reported that the biggest barrier for young people achieving their career goals was a lack of confidence.
Keep an eye on this page and your emails once registered to keep up to date – we have got plenty of resources available for volunteers and schools on our online portal and will be sending more details of the campaign in Dorset over the next few months.