Primary Futures is coming back to Dorset to reinvigorate our previous raising aspirations work in the area, pre-pandemic. Following the success of the Inspiring Dorset project in 2019, we're thrilled to be working with schools and volunteers to support children in the area.
With the pandemic disrupting momentum to education generally, we've teamed up once again with Dorset LEP and Dorset Council to inspire children and raise aspirations, linking their learning in the present to possibilities in the future, whether those possibilities are in Dorset or beyond. Now that Primary Futures enables access to thousands of virtual volunteers, children can broaden their horizons both locally and nationally, and enliven their learning in era of post-pandemic recovery.
The Inspiring Dorset 2021 campaign kicked off in May 2021 with more than 2,000 children from 21 schools across Dorset joining a showcase virtual event, featuring Dorset-based volunteers Nick, a film producer, Philip, a Head of Yacht Management, and Anna, a dentist.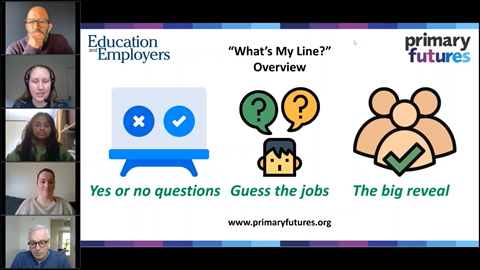 Pupils learned:
There are so many different jobs to choose from.

That there are jobs that I didn't necessarily know about

About the different skills you need.

That you have to learn a lot in primary and secondary school to earn your future job.

To always try new things and try my best!
You can now access videos of the virtual events.
May activity: Hear from a film producer, a Head of Yacht Management, and a dentist.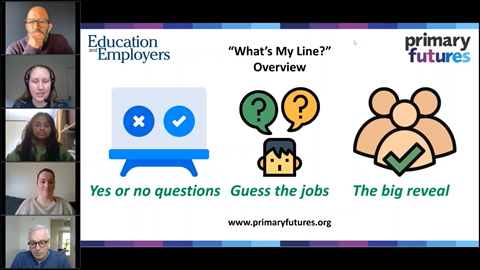 September activity: Meet a town planner in Dorset, an engineer who installs wind turbines in Taiwan, and a Senior Associate at JP Morgan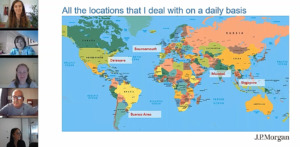 Upcoming opportunities for all Dorset primary schools
On 26th January, we will bring together Dorset teachers and Dorset volunteers virtually to celebrate successes, share best practice and meet and greet to prepare to connect independently beyond the life of the project to inspire children beyond the life of the project. Stay tuned for details and invitation.
As with all schools nationally, Dorset primary schools have access to our recorded and upcoming CPDs and webinars, resources to help you organise activities (both virtual and face-to-face) independently on the Primary Futures portal and free access to our growing menu of pre-recorded video resources, an easily timetabled taster to connect with volunteers and explore the career-related learning links.
Log in or sign up to access resources and link with thousands of volunteers.
Primary schools in Dorset can get in touch for support at enquiries@inspiringthefuture.org.
Inspiring Dorset 2021 – targeted project schools
Targeting schools in areas of low social mobility, we are providing a package of intensive facilitated support for a group of 25 schools. Participating schools will receive support to plan an aspirational programme of activities, including an introduction to Primary Futures at school staff meetings, a planning call to link Primary Futures to your curricular and enrichment objectives and administration and facilitation of a virtual Primary Futures live activity bespoke to your school. Your headteacher will be contacted if you are eligible. Currently open to schools in Chesil and BCP areas.
Find out more about project school support
Volunteers – get involved and inspire the young hearts and minds of Dorset
Are you a volunteer who lives and works in Dorset or has previous ties to the area? Schools have told us how important it is for children to hear from relatable role models, and our evidence backs this up. Here's some things you can do to support Inspiring Dorset 2021:
If you haven't already,

sign up

to volunteer

Select 'virtual volunteering' on your profile by 'updating profile' so schools across the region can link with you

Spread the word to others in the area

Keep an eye on invitations

Watch our webinar

:

Starting early: the importance of broadening horizons for primary-aged children.
Inspiring Dorset 2019
The 2019 Dorset project launched with a lively event at Holy Trinity Primary School, where more than 50 volunteers came in to discuss their wide array of jobs and career routes, some even bringing props. Gender stereotyping was highlighted throughout these events, with a female plumber showing children how to assemble pipes and a male nurse telling them his career story. One excited pupil said, "I felt inspired and now know I can do any job I want", and another, "'I loved every single person who came to our classroom".
A representative from Holy Trinity Primary School commented, "The volunteers' enthusiasm to share their careers, to inspire our pupils, and raise their aspirations was amazing – it was such a positive morning!" A teacher from All Saints School also commented on their event, stating that it gave insight into what the pupils want from employer engagement.
Volunteers called the campaign "A brilliant initiative", saying, "I had such fun, the children were fantastic, so engaged".
The launch was covered by Wessex FM, Dorset Echo and BBC Spotlight – watch the video below to get a flavour of in-school activities: