Launched in 2019 with a focus in Derby, Our Future connected teachers with workplace volunteers to inspire children and help them see the link between curriculum learning and their futures.

Following a successful first phase, the project was extended in September 2021 to include 52 schools across Derbyshire and Nottinghamshire, including Multi-Academy Trusts and two SEND schools.
Our Future was funded by the D2N2 Opportunity Area and run by Inspiring the Future in partnership with Learn by Design and dmh associates.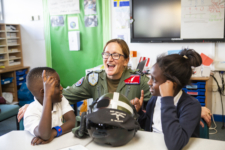 Key outcomes: Sept 2021 – July 2022
Reaching over 9000 children, with 100% of teacher-respondents indicating the programme had a positive effect on children taking part:
Improvements in key skills such as confidence, speaking in front of the class, and aiming high
Advances in tackling gender stereotyping
Positive impact on raising aspirations and broadening horizons
Our Future is building interpersonal skills such as problem-solving, teamwork, communication.

Deputy Headteacher, Southwold Primary School
For schools:
Twinning partnerships including meeting with other teachers, building confidence and sharing best policies and practices
Helping embed careers-related learning throughout schools – in one case supporting an increased Ofsted leadership rating
This project helped transform our school curriculum and the way we think about leadership and project-based learning in the classroom.

Headteacher, Landau Forte Academy Moorhead
Related research