Career Footsteps kicked off February with an exciting event at Hazel Oak School in Solihull. Hazel Oak is an all age special school for children with moderate learning difficulties, many of whom are on the autistic spectrum.
The day followed the format of other Career Footsteps events with speed networking followed by a carousel of workshops. Following events at other SEN Schools the charity worked with employers who had programmes that their students could access or had a history of employing staff with learning difficulties. There was a considerable uptake in volunteers wanting to support the event, with 16 volunteers supporting on the day.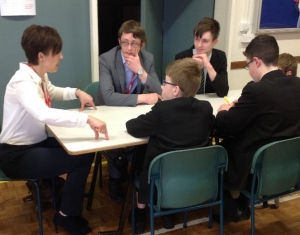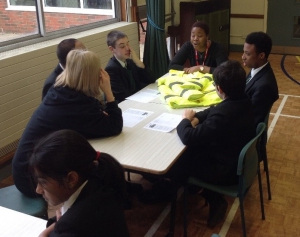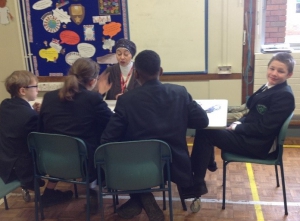 National Grid brought along a job coach and two employees who had come from an SEN school, both involved in the supported internship offered by the company. Alex La Fontaine who had completed the programme,  gaining employment with National Grid and Megan Dudley was a current intern on their programme. In addition, the day was supported by Solihull Moors FC and the Birmingham FA, who talked about the opportunities in football and the growing disabilities game.
During the Speed networking, students engaged with a wide range of volunteers, from interpreters to a TV script writer. The students enjoyed the activity so much that it was extended to a second session, which allowed them to speak to all the volunteers taking part in the activity.
The post event student feedback showed that a number of students were most proud of the fact that they spoke to people that they didn't know. Several of the students that took part in the event struggle with communication due to their learning difficulties, hence the opportunity gave them a chance to push themselves.
After lunch the students were split into four groups, so that they could rotate across four workshops. Each workshop was 30 minutes and covered a different topic.
Lisa Jones a Learning and Development Manager from Ernst and Young led a workshop on communication. Lisa covered not only verbal communication, but also physical getting students to stand up to do simple breathing exercises and asked several students to stand and speak in front of the rest of the class in each of the workshops. This was a huge boost for some students, one commented:
"I am most proud of going up to the front of everyone and speaking", while another said,
"I am proud that I still spoke to the rest of the class and described my card, despite not feeling happy today".
There was a workshop on employment skills run by Tracy Newman a HR Director from Monarch Recruitment. Tracy asked students to think about the skills that certain jobs needed, followed by getting them to think about the next steps and planning for their futures. The session clearly left an impression on students with one commenting:
"Even though change is hard – I set personal targets and plans for the future"
The National Grid ran a workshop based around team building, Claire Tucker a Job Coach from the supported internship led the session, while Megan and Alex supported the teams. In order to get across the importance of team work, Claire instructed the groups to build a house out of Lego. She repeated the exercise several times, each time giving them more detailed instructions, so that eventually the teams constructed a house that matched a picture. The session was well received with several stating it was
"their favourite activity of the day!"
The final session involved a talk about careers in football by Solihull Moors FC, which was led by Paul Cowie the Schools and Community Manager at the club and Piers who was a former player turned coach. The children were excited to speak to Piers, as he had been a promising young player, who had chosen to go in to coaching. Despite his young age he had been involved in coaching the first team at the club. Several students said they were "inspired by Piers!"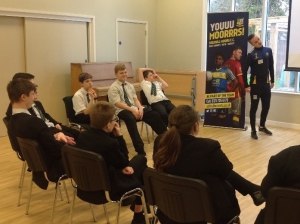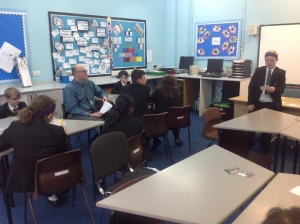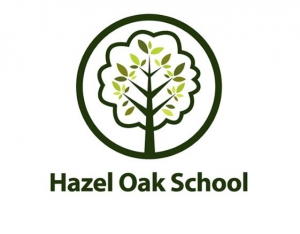 The day wasn't just well received by the students, several volunteers commented about how much they enjoyed the day:
"I was delighted to work with such engaging and enthusiastic children at the Hazel Oak School careers day. It was a learning experience for me as much as it was for the pupils and I'm so pleased to have been a part of a programme to raise aspirations and talk with the pupils about the great things they can achieve post-school." Lisa Jones, Learning & Development Manager
"Give a couple of hours of your expert view on your career to Hazel Oak pupils – you will be surprise how much you will learn from them!" Cilmara Lion, Interpreter and Translator
"I am impressed by the support Hazel Oak School gives to its children and its ability to spot and foster their talents" Maha El-Metwally, Conference Interpreter
"Throughout school and university I was very unaware of how many potential careers existed. It wasn't until that my eyes were open to other career options that changed my "made up" mind about what I wanted to do and now find myself a graduate on an apprenticeship trying to change my career before it has even begun. I wish that when I was younger I had been exposed to the huge amount of careers that exist I feel like that is why it's important to speak to children and young people about what their career options in life could be and that's why I wanted to be involved in the event and I'm glad I did the young people were a pleasure to be around and converse with. I even learned about Herpetologists and met quite a few future police men and women. I'd definitely do it again" Janna Simpson, Apprentice Project Manager
"spending time with the pupils and teachers at the school was really inspiring and incredibly rewarding.  Its great to see the support being offered and as an organisation, we're keen to see what else we can do to further the learning and opportunities available to the students.  Its definitely something I'd recommend that all employers consider getting involved in" Leanne Johnson, Senior Manager
"Piers and myself had a great day at the school, really enjoyed the workshops with the students who were extremely respectful and interesting to talk to" Paul Cowie, Schools and Community Manager, Solihull Moors FC
"I had a chance to express to the younger generation who have disabilities that the sky is the limit and to never doubt your potential" Megan Dudley, National Grid Intern
"National Grid's Employability programme was extremely happy to be able to support such a worthwhile event. Raising the aspirations of children at an early age is key to helping them achieve their dreams and what better way of doing this, than them hearing from Megan a current Employability intern and Alex, a former intern who now works for us in an administrative role" Louise Sanders, Business Readiness Programme Manager
"It was a brilliant opportunity to inspire other young people with disabilities and show them that there are organisations that are willing to give them a chance. Hopefully this has built their confidence. For us it has built our interns' confidence and shown us the importance of the work we do" Claire Tucker, Job Coach
"The event was great and it was good to mix with the students, they definitely enjoyed our Lego workshops!" Alex La Fontine, National Grid Intern
"I had a great day at Hazel Oak, it was a real privilege to speak to such a diverse range of children. I'm a civil servant, which isn't always the easiest job to explain to adults, so I framed the discussion around some of the skills I use in my job, which they'll be developing in subjects such as history and English; and around politicians they might have recognised. I was really impressed by how engaged the children were, one mentioned that he'd been learning about the Magna Carta during the previous week and wasn't sure whether democracy was a good idea! I'd really suggest taking up the opportunity to speak about careers in schools, it's great to have children ask questions about your work and see them consider how they can use what they learn in school in the future" Alex Swanson, Account and market manager, life sciences