Kingswood Secondary Academy in Corby kicked off 2018 by hosting a Career Footsteps event for their year 8 students. The Career Footsteps programme, run in partnership with the Edge Foundation, aims to open students' eyes to the wide range of routes they can follow into the world of work with a focus on vocational and technical paths. The event was run in partnership with the Greenwood Academies Trust, who Kingswood Secondary Academy is part of.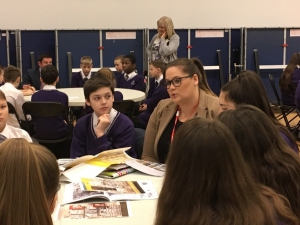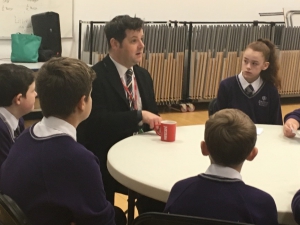 Beth Hardy, who organised the event through the school using the Inspiring the Future online platform, said:
"18 volunteers from business worked with 200 year 8 students to inform, educate and inspire them to think bigger, more widely, and aim higher in their futures.Watching every single student and employer engage with each other was a delight for all staff to see; we know that for the students to be successful they need to have greater levels of aspiration and the Inspiring the Future event provided them with the opportunity to meet people from a variety of sectors. The Army, BBC, Penguin, Homeserve and DXC amongst others opened our student's eyes to possibilities they may never have thought of.  Thank you so much".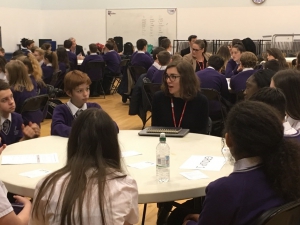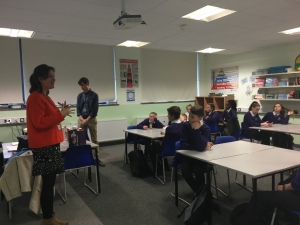 200 students met 18 volunteers from a wide range of careers and sectors participating in 'speed career-networking' and a carousel of workshops with volunteers ranging from a BBC Journalist to Data Scientist.
Workshop sessions included:
The publishing process of books, which was delivered by editors Connor and Rosana from Penguin Random Publishing House.
How technology has changed over the last several decades by Brian Buckman
Accessing risks when pursuing goals by Risk Manager Jenni Lyall
The importance of branding and marketing by Marketing Manager Andra Fenyes
A career in IT by Paul Cundy
Homeserve workshop by Liz Edginton, Project Manager and Mark Johnson, Director of Transformation
Sian Gresswell the Education Adviser for Careers and Employability from the Greenwood Academies Trust said:
" We are delighted with how the careers networking and employability workshops were received by our year 8 pupils.  We would like to thank Inspiring the Future and all 16 volunteers who supported the event for preparing such engaging content to inspire and spark curiosity in our students.  Greenwood Academies Trust is committed to providing all of our young people with a stable programme of inspirational careers activities that challenge stereotypes, broaden opportunities and raise aspirations – events like this really help us to deliver our strategy."
Participating volunteers were also full of praise:
"I thought the pupils were delightful, polite, engaged and I was very happy to meet them."
Andra Fenyes (Marketing Manager – Omega Foundry Machinery Ltd)
"I came prepared to talk about me and my career, focusing on the things I thought would be important to the children.  What surprised – and impressed – me was how many of the children came prepared with good questions I hadn't considered!  Letting the children guide the conversation and using your own experience to fill in the gaps is very enjoyable and leads to a more useful experience for them."
Russell Shanley (Programme Manager-Network Rail)
"I hope I was able to demonstrate to the students that technology is continually developing and what they consider normal today will soon appear old and anachronistic. School is not where you go to learn; it is where you are taught to learn."
Brian Buckman (Freelance Project Manager)