Westfield Arts College rounded off January by hosting a Career Footsteps event, which saw a small diverse group of volunteers engage with around 50 students. Westfield Arts College is a 4-19, Dorset special school serving the needs of 180 children and young people with moderate and complex learning difficulties. Half of the pupils have a diagnosis of Autistic Spectrum Disorder (ASD) in addition to their learning need.
The morning kicked off with speed networking, where students had a chance to get to know the volunteers and the career paths they took. The second half of the event saw students spit into groups and rotate through 3 interactive workshops.
Entrepreneurship and Hospitality – delivered by Tony Colston
Make-up tutorial – delivered by Hannah Lomas
Plumbing – delivered by Lotte Norris
Matt Delany the teacher responsible for hosting the event summed up the importance of career engagement within this SEND schools in the following video. Another teacher commented:
"It is fantastic to see the students engaged in employability subjects."
The event generated some great feedback with students commenting that:
"It was interesting to get to know what people do at work."
"One of the volunteers had no GCSE's but still managed to get a job, it just took longer. "working hard pays off"
"I enjoyed the work-related activities"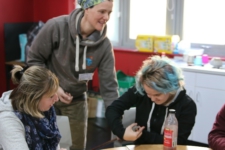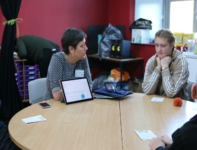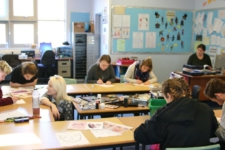 There was extremely positive feedback from the volunteers:
"Getting an idea of what the world of work is like, once you have left the education system, is really useful. Hopefully the students gained an understanding of not only the fact that there are so many choices nowadays, but what they need to do in order to start thinking about what ideas they may have, what questions they should be asking, and how the skills they are learning at school can really help them on their way. And that's both the educational the practical skills."
– Tony Colston
"It is always a pleasure to talk about my passion for engineering and find it very rewarding when the students are as engaged and enthusiastic as they were at Westfield Arts College. It's a great feeling to see young students switch on when they realise that engineering isn't just the preserve of bespectacled boffins in white coats solving difficult problems but is in fact all around them in every aspect of their lives done by many different types of people from all backgrounds, and in the future it could be them."
– James Kemmitt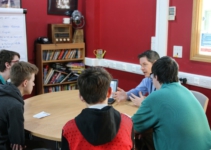 Schools or volunteers wishing to be a part of Career Footsteps can find out more information on our website. You can also get in touch with the team on 0207 566 4880 or drop an email to enquiries@inspiringthefuture.org.