Maghull High School has incorporated Careers Speed Networking with breakfast to provide an informal setting where students have the opportunity to meet a range of different people doing different jobs, and chat to them about how they got there. Read on to discover how and why they use Inspiring the Future to help them arrange this annual event to inspire and motivate their students. After, why not arrange your own school's career speed networking event with a twist?
Why does your school invite Inspiring the Future volunteers in to meet students?
Careers information, advice and guidance has a strong presence at the school with students from years 7-13 given every opportunity to meet with local and national businesses.
Meeting Inspiring the Future volunteers gives students confidence to chat to strangers about their jobs and how they ended up where they did. It's about inspiring them to think wider than traditional jobs, but also to understand that in the world of work they are going to meet lots of different people and you must get along.
What are the benefits of using Inspiring the Future to coordinate careers activities?
Inspiring the Future helps to coordinate this efficiently by providing one central point to source many of the volunteers, and one place where all the emails are located rather than many in a work email where they might get missed. The wide variety of professionals signed up to choose from is a bonus too.
What events does your school organise using the Inspiring the Future platform?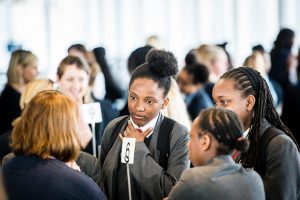 Our annual careers breakfast where we invite volunteers from a range of interesting careers to join us for breakfast and a chat about their jobs with our year 10 students.
The event is Speed Networking but with a difference. It provides an informal setting where students can chat with many different people from the world of work. All our year 10 have engaged with at least 10 business guests in the space of an hour and had their horizons broadened.
We invite a wide variety of people and encourage the student to ask them about their life at school, college, what car they drive etc. This event is about the students understanding the variety of jobs out there, and not coming to the event to talk to only lawyers or accountants or doctors or plumbers etc.
What do your students think of the event?
All the students spoken to afterwards said how much they enjoyed it and some commented they didn't realise you could start with one job and then change as you got older.
They were also surprised how willing the guest were to speak to them and chat about normal things such as what was on tv the night before etc.
Do you have any plans to follow up with this event using Inspiring the Future?
We will now question the year 10 and arrange for some of the guest to come and speak to a specific cohort about their careers based on requests from students
We will also try to develop our relationship with the guests to see who might be willing to arrange a work place visit.