In May, Primary Futures held the first two virtual 'What's My Line?' sessions with reception to Year 6 children from Newark Hill Academy in Peterborough and Wistaston Academy in Cheshire. These new interactive sessions mirror the in-school assemblies, allowing pupils to guess volunteers' jobs through hints and props before learning about what they do. 
Children joined the 30-minute sessions on an online webinar platform. After a hello from teachers and the volunteers, Primary Futures hosts introduced the activity and rules of the 'What's My Line?' game. Children were asked to think of questions to put to volunteers that had only a 'yes' or 'no' answer in order to find out some details about their jobs.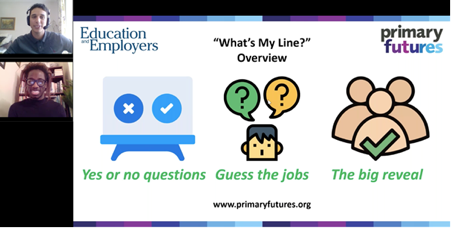 Questions flooded in via the online chat box from children– including the following: 
"Are you a key worker?" 
"Do you work with children?" 
"Do you have to go to university to do your job?" 
"Has your job been affected by coronavirus?"  
"Do you work in a team?" 
"Does your job help people?"  
 "Do you ever have to make important decisions?"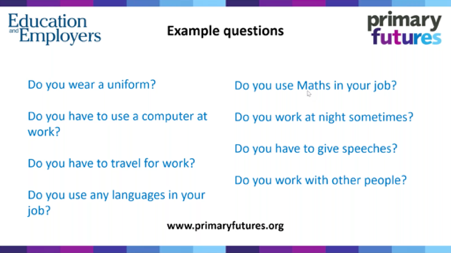 Following the questions, children started to guess the job roles of the volunteers. After lots of insightful guesses, the volunteers put on their uniforms or held up props and revealed to the children what they did, talking about the skills they needed for their jobs and what they enjoyed the most. Volunteers described their experiences by drawing on the children's guesses to bring their questions about the world of work to life. 
Across the two sessions, children heard from a real range of volunteers – a doctor, conservation project worker, policy advisor, food writer, video producer and charity founder. 
Volunteers ended the activity by talking to the children about what jobs they wanted when they were in primary school, and how this relates to what they do now.  
Polls ran throughout the session to keep pupils engaged and encourage reflection about what they were listening to. 
Teachers attending our 'What's My Line?' sessions have said: 
"It was very well organised by Holly and her team. They communicated with myself and the volunteers very well and kept us informed. The children were exposed to different volunteers from different professions which was good to broaden their knowledge of different jobs and the world of work." 
"[The best thing was] children being able to interact virtually and the host praising when there was a good question." 
Children participating said: 
"The reveal was fun because we got to learn about new jobs." 
"The 3 jobs were very interesting and they were all different."