On Thursday 30th January 2020 Year 5 and 6 pupils from six schools visited 10 No Downing Street.
Ballysally Primary School, Coleraine NI
Bramble Brae Primary, Aberdeen
Culcheth Primary, Warrington
Lainesmead Primary School, Swindon
Soho Parish Primary School, London
Welton Primary School, Bath & North-East Somerset
They had been invited to take part in a special "Children's Lobby" hosted by the Prime Minister. It was a wonderful opportunity for them to ask him questions as if they were members of the media on the theme of 'looking to the future'. The 6 schools had already been studying this topic as part to their Primary Futures programmes. The children had drawn pictures of what they wanted to do when they grew up and explain why they were interested in that job and who had inspired them.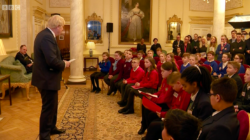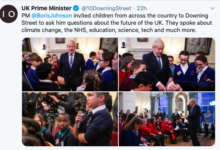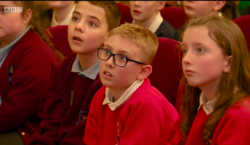 Before the Children's Lobby session the children got a behind the scenes tour of No10. They also got the chance to meet people working there and ask them questions about their jobs and career routes. It was a wonderful opportunity for them to talk to a wide range of people from different backgrounds doing different jobs, helping to broaden their horizons and get them thinking about the amazing opportunities that are within their grasp in the future. The children also shared the pictures of drawings of jobs they aspired to be in the future with them and with the Prime Minister Boris Johnson.

Geoff Dunn MBE. Headteacher at Ballysally Primary School in Coleraine, Northern Ireland said:
"The experience of visiting 10 Downing Street and meeting the Prime Minister and his staff will live long in all our minds. It was such a surreal day filled with anticipation, excitement, intrigue and sense of history. The Prime Minster was captivating and had both children and adults hanging on his every word.
However, what struck me most about the whole day was how naturally our pupils Daniel and Keeley quizzed members of Downing Street staff about their jobs – how they came to be there, what the good parts and the not so good parts of their daily work lives were and even how they found the commute.
This truly reaffirmed to me the impact that Primary Futures is having on an ongoing basis in the lives of pupils in our school"
Click here to watch the video of Boris Johnson talking to the children