Plan careers education activities to re-engage your students this autumn and link school learning to future opportunities. Below, we'll look at some examples of activities you could plan, the Gatsby Benchmarks they meet, and how to create your own encounters on the Inspiring the Future portal.
New to Inspiring the Future? We're a free service connecting UK state schools and colleges with inspiring role models from the world of work. You can create in-person and virtual activities to connect with local volunteers, or those further afield. Sign up here – it's free and it takes just a couple of minutes.
Sector-specific careers talks
You can invite volunteers from a certain sector to talk to students e.g. in a business class, to help bring STEM subjects to life, for those interested in arts, and so on. A school in London is planning a session on the nuclear sector to link with students' work in science, maths and English classes. After giving a talk on their career journey and job role, the volunteers will give the students mini tasks to complete, and discuss the relevance of core subjects within their work. The session will stream to a year group assembly via Microsoft Teams, or take place in person.
This activity meets Gatsby Benchmark 4: Linking curriculum learning to careers
Plan a similar activity:
Log into your portal, click 'Manage Opportunities' on the navigation bar, then 'Create New Opportunity & Invite'.
Input the details about your activity – number of volunteers, whether it's virtual or in-person, year groups, then add the 'Industry sector' and 'Curriculum Subject' to focus the activity on your students' needs. It's good to include as much info as possible in activity descriptions so volunteers know what to expect.
Click 'Save and find volunteers' at the bottom right of the page
You can now invite volunteers by using the map for local role models, or by selecting 'Virtual volunteers' and clicking on the 'List' view. You can search by sector, relevant subjects and job title to narrow your search.
On the portal homepage you can also access 'Resources' – such as step-by-steps for virtual activities, safeguarding guidance and our 'Using the portal' video.
See how the above process works in our short video:
Mock interviews
These 1:1 sessions are a great way to enable individual students to learn about their goals and skills, and gain personalised feedback. A Lancashire school has organised in-person competency-based mock interviews each lasting 15 minutes, with the aim of matching Y11 pupils with volunteer interviewers from sectors they are interested in.
With this activity you can meet Gatsby Benchmark 3: Addressing the needs of each pupil
Plan a similar activity:
Follow the steps above to 'Save and find volunteers'
Search by 'Recruitment skills' under 'Other Specialist Topics' to find volunteers who can share their knowledge with students
Ask students to share their CVs with volunteers beforehand to help them prepare for interview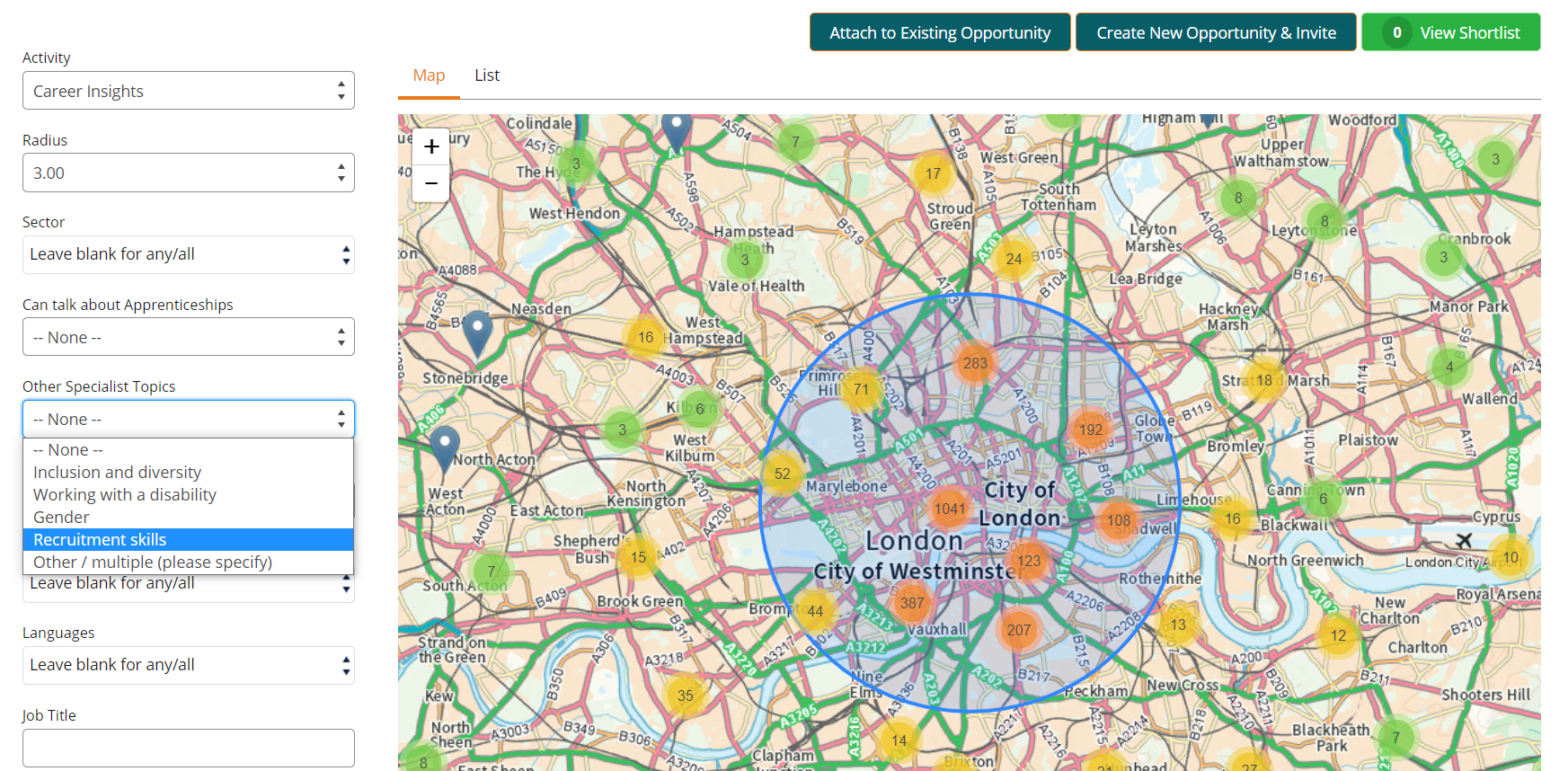 Speed networking
Speed networking allows young people to gain a snapshot into different sectors and job roles – perfect for showing students the range of opportunities they could have in the future. In Buckinghamshire, small groups of Sixth Form students will meet with a varied selection of employers in 5-10 minute sessions to gain a brief insight into their experience and ask any burning questions they may have.
This activity meets Gatsby Benchmark 5: Encounters with employers and employees
Plan a similar activity:
Follow the steps above to create your activity and find volunteers.
Reflect on the encounter afterwards – ask students to share 3 things they have learnt with a peer about the careers they heard about. What most surprised them?
Find accompanying resources on your portal, including tips on preparing students and speed networking questions.

Log in now
Get in touch to book a free planning call