Staff at GlaxoSmithKline (GSK) recently welcomed 30 students from three different schools to their offices in Ware for an event designed to give the students a more in-depth understanding of what apprenticeships are. This event was ran as part the Apprenticeship Support and Knowledge for Schools project (ASK), a project to increase the awareness and understanding of apprenticeships. Education and Employers is the delivery partner to London and the South.
Students from years 10 to 13 were given the opportunity to deepen their understanding of apprenticeships in general, and received a broad introduction to some of the apprenticeships and other career pathways available at GSK. They heard from a panel of apprentices and graduates, including a qualified Biochemist, and received a tour of GSK which rounded the day off nicely.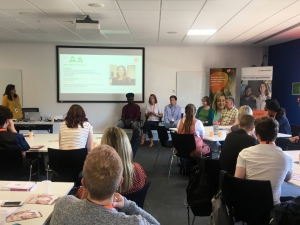 Kicking off with a presentation from GSK, students were given a really great insight into the different career opportunities available, from science to engineering. An introduction to apprenticeships was then provided which included how they work, the different levels and where to go to apply.
A panel of apprentices and graduates then talked to the students about their experiences of working for a global organisation like GSK. The apprentices that took part were from the IT and engineering departments, and gave a good insight into why they chose to do an apprenticeship at GSK as well as the benefits of working there. They were joined by two other members of staff from the animal study unit and biochemistry.
Alpa Bhudia from GSK commented on the day:
"We were very happy to see a number of engaged students asking questions and showing a real interest in the career paths discussed today."