It's been a lively start to the summer term for Primary Futures schools! Teachers have invited our volunteers to take part in motivating activities to enrich children's learning, substitute for missed summer trips, and support Year 6-7 transitions. Virtual volunteers have presented greater opportunities to link with topic learning, from Space to the Wild West. Read on to gain inspiration for your summer activity. 
There have been some fantastic themed virtual sessions put on by schools recently. During a Space activity which linked to curriculum learning, Year 5 children at Sandringham Primary School in Doncaster heard from the Director of a local engineering company who designed a computer case for the International Space Station, a Professor of Solar Physics at University College London and an Airport Manager who took his laptop to show children the planes he looks after. 
Toll Bar Primary School held a Wild West-themed 'What's My Line' activity, with Year 6 children guessing the jobs of volunteers by asking them yes/no questions. Children met volunteers including a National Fairground and Circus Archive Collections Manager and a Location Manager of a Wild West town used as a film set. Teacher Ann Melling commented, "Thank you for today – the presentations were sensational."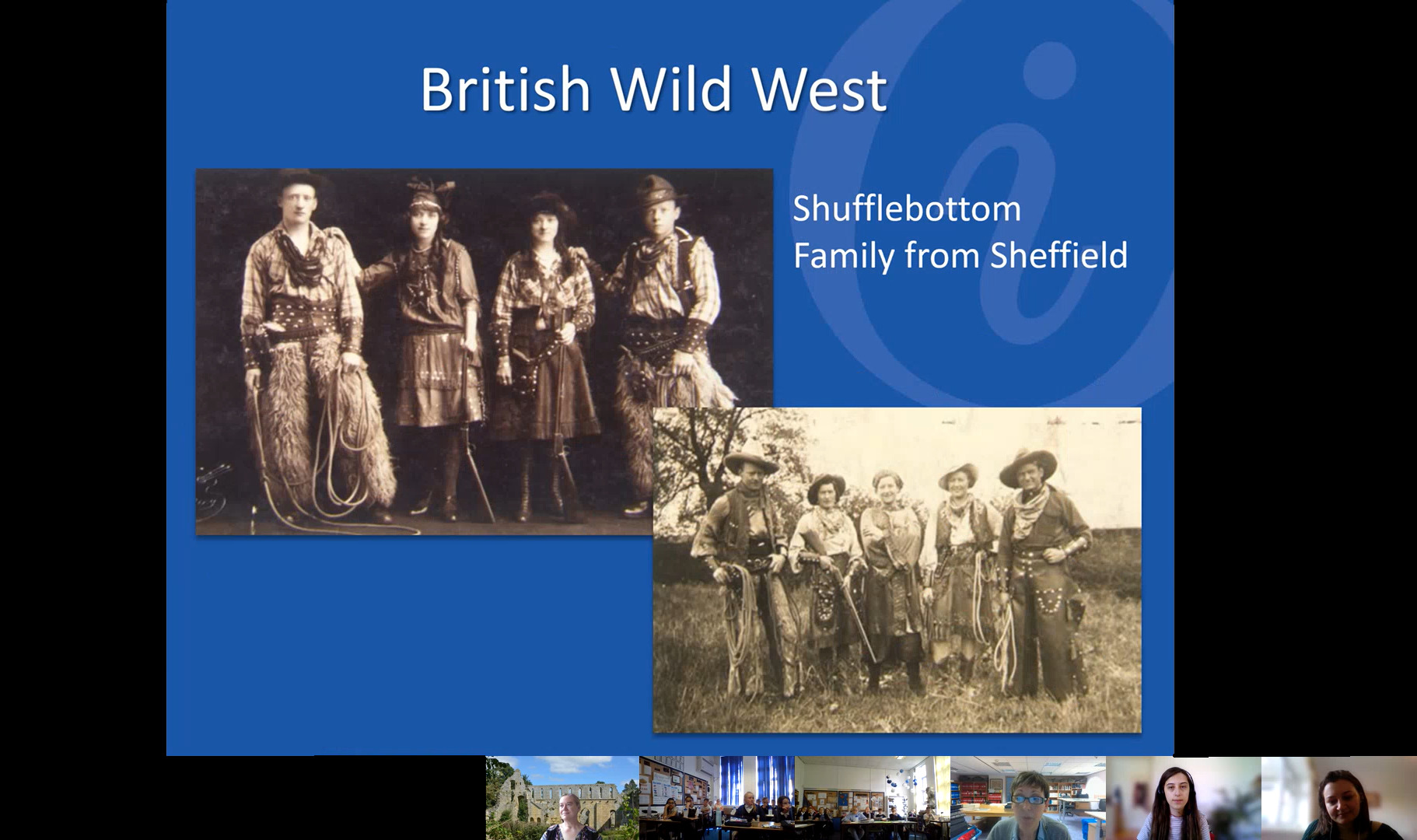 Via Microsoft Teams,  Archive Collections Manager Arantza showed children photos of the British Wild West, part of the collections she looks after at the University of Sheffield 
Year 4 and 5 children of St. Bernadette's Catholic Primary School in Milton Keynes took part in a virtual activity for a British Science Week celebration postponed from March! Three exciting volunteers joined, all from different STEM backgrounds. A Delivery Executive at Google spoke about how important coding, science and maths are for her job, a Clinical Scientist in radiotherapy physics explained what physics is and how she uses the subject in hospitals to help her treat patients, and a Scrum Analyst at Sky spoke about all the different aspects of her role, such are carrying out research and working with other analysts on special projects. 
Kingsthorpe Grove Primary in Northampton organised a virtual workplace tour, with each volunteer bringing their workplace to life with videos, photos and objects. First up, an Engineer who has been working on the installation of offshore wind turbines in Taiwan sent a video of his ship and explained the machinery they use to install the turbines. A Conservator and Heritage Consultant joined from her studio to show the children items she has recently been working on – including a 2000-year-old sword and very old shoes! Finally, a Records and Archives Support Officer at the Cabinet Office explained what an archive is and what he does in his job. He told the children about his place of work in Westminster and about the Churchill War Rooms. 
Children at Darwen St James in Blackburn heard from a doctor and researcher, who told the pupils she always aspired to be a doctor from childhood. She explained that her job has taken her all across the world and the importance of making good friends, choosing good mentors and helping others along the way as you can never do it alone! Pupils then heard from a civil servant who explained what civil servants do, how the civil service works, where they get their money from and how they spend it. The volunteer told us how she had wanted to be an actor when she was younger, but she loves her job as a civil servant and wouldn't change it. She also gave great examples about the skills that actors use that are important to her work now, such as communication. 
In other activities… 
Edlington Victoria Academy

in Doncaster invited volunteers to speak to children about World War II to link their activity to their history class, with one volunteer showing the class how bombers would navigate using an analogue flight computer, maps and beacons.

At Arboretum Primary in Derby, children heard from people with jobs in the NHS, as well as holding a session on sports and motivation, and another on STEM

 

In their Showtime activity, Years 5 and 6 at Carr Lodge Academy in Doncaster learnt about different jobs in performing arts, including behind-the-scenes roles. The children met a choreographer at Northern Ballet, a head of participation at a theatre, and a head of technical at a performing arts centre.

 

As part of World Maths Day, Barham Primary in Wembley put on their activity 'The Importance of Maths in Everyday Life' for years 4-6, hearing from volunteers to find out how maths is used in a real range of jobs.

 

Pupils at Wyndham Primary in Derby heard from business owners during their aspirations-raising enterprise activity

 

A 'Where Does My Job Take Me?' workshop at Hardwick Primary in Derby focused on opportunities for UK and international travel in jobs and careers, showing children the vast possibilities for their futures

 

Pilot John shows children the analogue flight computer!

Volunteer Michael shows children a puppet he made as part of his job in theatre, and talked about how he thought creatively to do this 
Here are some top tips volunteers shared with the children: 
 I had no idea what I wanted to do when I was younger, but it's important to push yourself to do your best, develop people skills and take up all opportunities.

 

Don't give up and never be afraid to ask for help

.

If there is something that you want to do, don't let anyone stop you and always try your best.

 

Make sure that you enjoy and are passionate about what you do, and have fun!

 

Be determined and always try your best – failure isn't a bad thing as it's not about being the cleverest and getting top grades, it's about always trying your best and working hard.

 

Even if subjects don't seem useful at the time, they will be useful in the future – so don't give up and keep working hard!

 

You're constantly learning and it's exciting! Even when you leave school, you'll keep learning in the future and for your jobs.

 
And feedback from the children who took part: 
It was interesting to learn about jobs we had not heard of before.

We learnt about a variety of roles.

It's up to you, you've got a choice about your future. No one else is carving your path for you.

 

We learnt

 

about radiation and how it can be used to treat people, how Google gets information from the cloud, and how important STEM is.

I learnt it's okay to change your mind and have a different career route – you don't have to be stuck in a job that you don't enjoy.

 

I learnt that failure isn't a bad thing – it's important to always keep trying!

 
Our pre-recorded video resources on tackling gender stereotypes are still available to teachers – slot them into your timetable for an easy, engaging activity this summer term. Simply sign up and log in to instantly access them on your homepage.  
Hear from teacher Emma Parker at Landau Forte Academy about her experience using the KS1 resource: 
"During a reading lesson in my Year 3/4 class, we came across a text which discussed female climbers and mountaineers. This sparked a level of curiosity in my classroom, as many of the children were of the opinion that 'women are not strong enough to be mountaineers.' Following the children's interest, this led to a conversation about careers for men and women. My class were truly engaged in this topic and so I decided to share the Primary Futures 'Budding Futures' video on tackling gender stereotypes' with my class. This was an instant success! 
"The session began with me asking the children to draw an image of what a florist would look like and an image of what a construction worker would look like. It did not surprise me, when almost 90% of my class drew the florist as a woman and the construction worker as a man. I then shared the video links from Primary Futures where we virtually met a male florist and a female construction worker. Yet again, this sparked off a lot of debate in my class about gender stereotypes in various careers. My class are truly engrossed in career related learning and we are really enjoying getting an insight into different careers. Over the next half term, I will continue to tackle gender stereotypes with my class as it is something they are really engaged in." 
Next steps… 
Would you like to support activities and inspire children in your local area and beyond? Log in or sign up to volunteer now.