This National Apprenticeship Week  and on International Women's Day, Inspiring the Future ran an  Inspiring Apprenticeship event at Eastbrook School in Dagenham.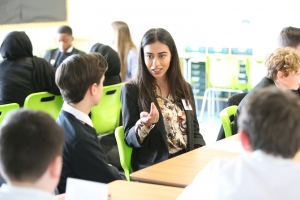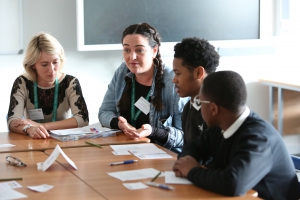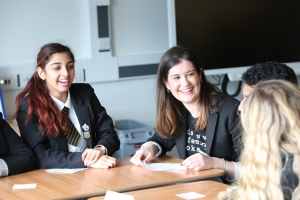 Photos from the event are here.
This event come shortly after the launch of a new report by Education and Employers charity which looks at some of the negative perceptions about apprenticeships, including gender stereotyping, and how schools and colleges can tackle these by inviting apprentices in to talk about their positive experiences and their careers.
At the event, over 30 former or current apprentices – many of whom are women – talked to students about their experiences. They include a Solicitor Apprentice from Withers LLP, Apprentice Engineers from Homeserve, Diary Secretary Apprentice from The Cabinet Office and many more, demonstrating the diverse range of apprenticeships. They will be talking to students about their experiences of being an apprentice, and tackling some of the gender and other stereotypes around this route.
If you would like to volunteer in schools talking about your apprenticeship story, please sign up to Inspiring the Future.
A huge thank you to our fantastic volunteers:
| | | | |
| --- | --- | --- | --- |
| Abi | Ganesalingham | Accenture | Financial Services Consultant |
| Talit | Khan | AdvantageSEND Consulting | Education Consultant |
| William | Brittain | AON | Apprentice |
| Roselyn | Unegbu | Association for Project Management | Head of Programmes |
| Leah | Bailie | Barclays | Apprentice |
| Hayley | Andrews | Barnard & Westwood | Book Binder |
| Aaisha | Mughal | Bevan Brittan LLP | Legal Apprentice |
| Keeva | Challis | Bevan Brittan LLP | Legal Apprentice |
| Lybov | Turchyn | Cabinet Office | Diary Secretary |
| Chelsie | Oakley | Capgemini | Cyber Security Apprentices |
| Clare | Mills | Capgemini | School Programme Manager |
| Matt | Portainer | CBRE | Apprentice |
| Sophie | Banks | CBRE | Apprentice Surveyor |
| Ellie | Eastman | DfT | Apprentice |
| Kelly | Freeman | DfT | Commercial Skills & Capability Manager |
| Simran | Khurmy | DfT | Apprentice |
| Christine | Simon | DWP | JCP West London Schools Adviser |
| Rebecca | White | First Intuition | Skill and Development Coach |
| Daisy | Tyerman | GSK | Manufacturing Science Apprentices |
| Daniella | Tubb-Whittington | GSK | Apprentice Recruitment Account Manager |
| Charlotte | Sandbatch | HomeServe | Apprentice |
| Ebony | Bunting | HomeServe | Apprentice |
| Paul | Mann | HomeServe | Technical Services Manager |
| Toni | Oakley Tulk | HomeServe | Apprentice |
| Karen | Taylor | LIBF | Head of Apprenticeships |
| Sonia | Alonso Vincente | Link Group | Senior Project Manager |
| Charlie | Edwards | London Skills for Growth | |
| Marie | O'leary | London Skills for Growth | |
| Nicole | Clavier | London Skills for Growth | |
| Victoria | Jones | London Skills for Growth | |
| Mark | Burgess | Merchant Navy Training Board | Training Development Manager |
| Lucy | Freeman | Merchant Navy Training Board | Royal Fleet Auxilary |
| Masuma | Begum | Mischon De Reya | Legal services Apprentice |
| Jay | Connolly | MOJ | Apprentice |
| Megan | Taylor | MOJ | New Apprentice |
| Maybell | Saliu | Network Rail | Programme Administrator |
| Minaar | Hansi | NHS | Performance and Quality Analyst |
| Brendan | Devereaux | Prime Minister's Office | Drafter, Ministerial Correspondence Team |
| Jess | McKeever | Prime Minister's Office | Logistics and Events Officer (and former apprentice) |
| Sam | Gold | Prime Minister's Office | |
| Aisha | Ahmed | SGCIB | Apprentice |
| Margaret | Daly | SIRM |  Marketing and Recruitment Manager |
| Courtney | Leaver-Gritter | TFL | Train Maintence Apprentice |
| Abena | Asamoa-Bonsu | TFL Systems | Lead Project Engineer |
| Chloe | Miles | TFL Systems | Apprentice Quantity Surveyor |
| Rebecca | Balderson | TFL Systems | Apprentice Engineer |
| Shermena | Reid | TFL Systems | Engineering Apprentice |
| Evie | Gowlett | Withers LLP | Solicitor Apprentice |
| Halima | Khanum | Withers LLP | Solicitor Apprentice |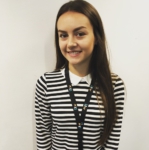 One of our volunteers, Holly Moor, Apprentice Solicitor at ITV talked about her apprenticeship experience:
"I started looking for legal apprenticeships as I was studying for my A levels. I thought that a mixture of practical work and academic study was best suited to somebody like me who always wants to take on a challenge. Also, I felt that an apprenticeship would provide me with practical legal skills, which are a fundamental part of being a solicitor and which I would not develop as early if I went to university full time. I felt that this apprenticeship was the perfect opportunity to become a fully qualified solicitor, while gaining a huge amount of hands-on experience and incurring no university debt. I also felt that ITV as an organisation would be the perfect workplace for me, as I would fit in and enjoy my working life while reaching my full potential. Now in my second year, I couldn't be more right."