As part of the Apprenticeship Support and Knowledge for Schools project, members of the Education and Employers team visited the JP Morgan office in sunny Bournemouth. They were joined by 60 students, aged 14-18, from five schools in the Bournemouth area. The event gave the students the opportunity to tour the JP Morgan office, speak to current apprentices at JP Morgan and learn more about the variety of apprenticeship programmes on offer.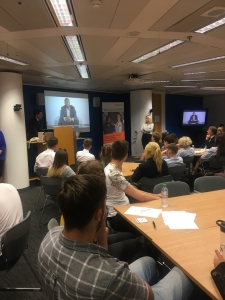 It kicked off with a presentation from JP Morgan, which gave insight into what the global organisation does. Students then took part of in a speed-networking activity which saw them speaking to around ten different apprentices, ranging from apprentices currently undertaking an apprenticeship to others who have completed apprenticeships and now developed into other roles within the company. This activity enabled one on on time between the students and apprentices, allowing them to get some great insider knowledge on how to apply for an apprenticeship and make their application stand out. Students were also able to learn what a typical day in the life of a JP Morgan apprentice looks like.
The apprentices that took part in the event were from a range of different apprenticeships, from Finance to Technology. The students in attendance gained a more in-depth understanding of what apprenticeships are and got a broad introduction to some of the apprenticeships on offer at JP Morgan in Bournemouth.
Nicky, Teacher from Lytchett Minister School, commented: "Can I thank you both very much for an interesting and useful event for our students.  It was an excellent programme and good information for our future apprenticeships and what they need to be achieving."
Louise, Teacher from The Grange School, said: "It was really useful and thank you for inviting us along.  The students and I got a lot out of it."
Adele, Teacher from the Linwood School, said: "'Thank you so much for setting up the event at JP Morgan yesterday. The students who attended found the event very informative and inspiring. We would really like to attend another event like this if one is organised in the future."