Inspiring Bradford was launched today at Beckfoot Heaton Primary School and Nursery. The initiative is designed to raise and broaden the aspirations of young people in Bradford and provide them with a better understanding of the job opportunities and career routes that are open to them. The intention is that the initiative will form a blueprint for other parts of the country.
The week of high-profile events in primary and secondary schools is running from the 13th to 19th October and each day has a different theme: business and economy, diversity, women in science, the arts and career routes such as apprenticeships and university.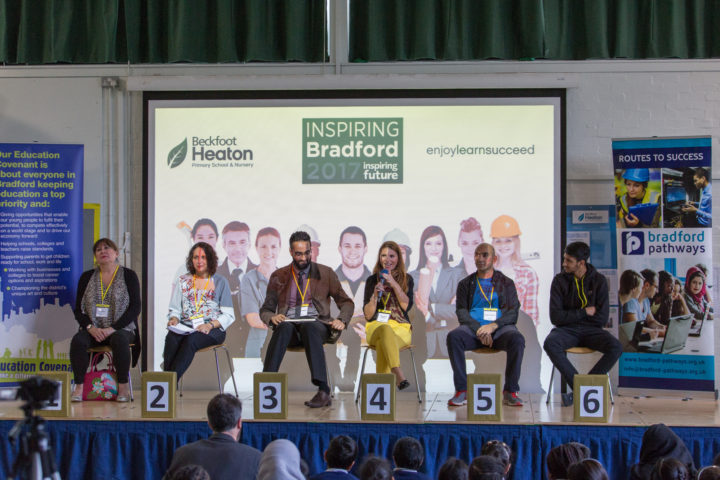 Today's launch event involved six volunteers taking part in a Primary Futures 'What's my line' where children try and work out their jobs, helping to challenge stereotypes young children often have based on gender and ethnicity. Over 60 people from business and the economy sector will then go into classrooms and chat in small groups to children.
Carolyn Fairbairn, CBI Director-General speaking at the launch said: "Bradford is leading the way in how we educate young people about the exciting world of work. Businesses and schools getting together is something we need to see all over the country, sharing the many opportunities that are available and challenging any misconceptions. Inspiring the Future is a fantastic way for every business to make a difference on social mobility and inspire future talent. Starting early matters and we know children are already making decisions about what they want to do at the age of eight."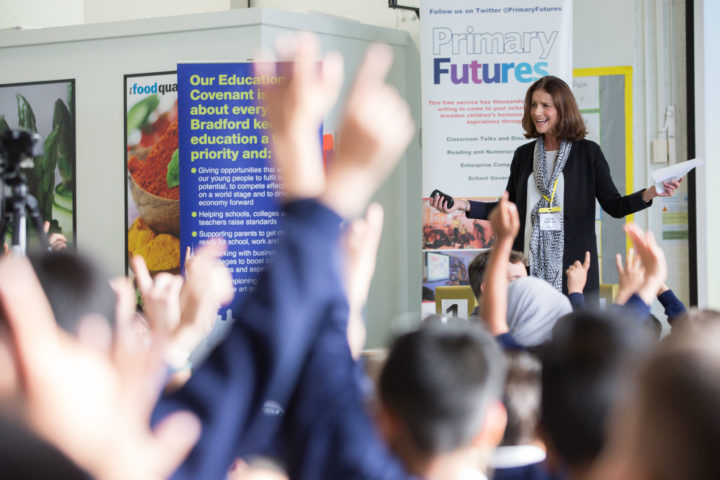 Launched at the beginning of the event was a three-minute film about the primary schools featuring Andreas Schleicher, Director for Education and Skills, OECD. Watch the new Primary Futures video here.
The volunteers taking part in the event included:
• Adeeba Malik CBE, Deputy Chief Executive, QED Foundation
• Andy Mellor, Incoming President, National Association of Head Teachers
• Ann Mroz, Editor and Digital Publishing Director, Times Educational Supplement
• Beckie Hart, Regional Director for Yorkshire and Humber, CBI
• Carolyn Fairbairn, Director General, CBI
• Cllr Susan Hinchcliffe, Leader, Bradford Council
• Cllr Imran Khan, Deputy Leader, Bradford Council
• Dame Mary Archer, Chair, Science Museum Group
• Damon Boxer, Head of Delivery, Bradford Opportunity Area, Department for Education
• Deborah Pocock LVO, Executive Director QEST, The Royal Warrant Holders Association
• Jane Balderstone, Deputy Regional Schools Commissioner, Department for Education
• Jo Quinton- Tulloch, Director, National Science and Media Museum
• Kersten England, CEO, Bradford Council
• Michael Jameson, Strategic Director, Department of Children's Services, City of Bradford Metropolitan District Council
• Naz Shah, MP for Bradford West
• Nicola Brentnall, Director, The Queen's Trust
• Professor Shirley Congdon, Deputy Vice-Chancellor, University of Bradford
• Sarah Lewis, Deputy Director, Opportunity Area, Department for Education
• Zamila Bunglawala, Deputy Director, Strategy and Insight, Race Audit, Cabinet Office
The initiative has been developed by a range of partners working closely with both primary and secondary schools across the district. These include Bradford Council, University of Bradford, the National Science and Media Museum, the National Association of Head Teachers and the charity Education and Employers which runs Inspiring the Future and Primary Futures.
Education Secretary Justine Greening said: "Every young person, regardless of where they live, should have the support they need to go as far as their talents and hard work will take them. The 'Inspiring Bradford' programme is a great example of the partnerships being set up in our 12 Opportunity Areas – of which Bradford is one – to drive social mobility and raise the aspirations of young people. Projects like this play a key role in broadening young people's ambitions and providing positive role models to tackle the stereotypes around gender and ethnicity that can act as barriers to achieving their potential. I am delighted to support this work and look forward to hearing more of its success."
Andreas Schleicher, Director for Education and Skills, OECD said: "The OECD's international work consistently shows that young children are full of enthusiasm for learning, but as they get older, too often they struggle to see the point of what they are learning and how it relates to their future and a result their educational attainment drops. This is particularly a concern for children from disadvantaged backgrounds who lack successful role models from the world of work.
Giving primary school aged children the chance to meet people from the world of work can help them to understand the relevance of subjects they are studying – and in so doing improve motivation and attainment. All children, regardless of their social background, where they live or the jobs their parents do, should have the same chance to meet people doing a wide range of jobs to help them understand the range of opportunities open to them – just as is the norm for children who are from affluent backgrounds. It is something governments and policy makers across the world should give more consideration to."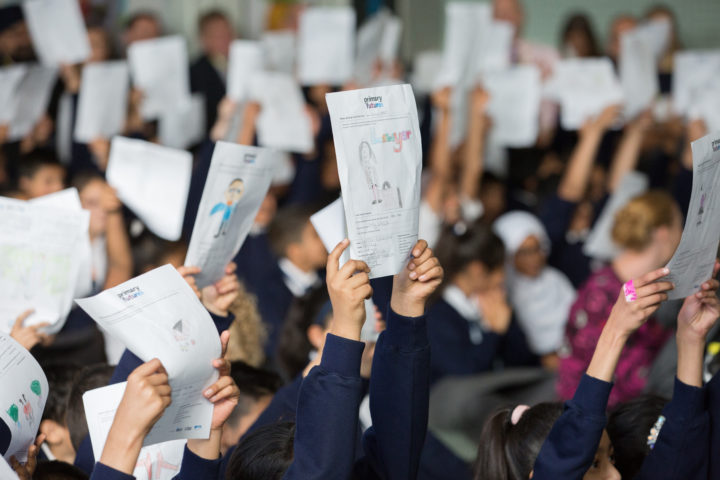 Councillor Imran Khan, Bradford Council's portfolio holder for education, employment & skills, who took part in the launch, said: "Inspiring Bradford is a fantastic partnership initiative and a pioneering way of engaging employers and schools to work together to help young people. It shows the benefit of our Education Covenant and Bradford Pathways initiative in getting businesses and volunteers involved with schools to help our ambition to raise attainment. We're very grateful to all the volunteers who have offered their time to help inspire our young people."
Adeeba Malik CBE, Deputy Chief Executive, QED Foundation speaking at the launch said: As someone who was born, grew up, went to school and lives and works in Bradford I know the impact local volunteers going into schools can have on young people. Seeing people who are from similar backgrounds to them doing a range of fulfilling jobs can be very motivating to them. Please do volunteer – just one a year is all we ask and it very simple and quick to sign up via inspiring the future."
Michael Jameson, Bradford Council's strategic director of children's services who also took part in the launch said: "There are some fantastic things happening in our district to help our young people achieve their potential with numerous organisations all playing their part. Inspiring young people and giving them a vision of what their career might be is so important in helping them stay focused and achieving at school. Inspiring Bradford is a collaborative effort involving teachers, local organisations, community groups, volunteers and employers in the area."
Legacy
Schools have often found it difficult and time-consuming to find the volunteers they want to engage with children and young people. The week of inspirational events in schools also aims to get more people volunteering and more schools inviting volunteers via the free national Inspiring the Future service which connects schools and volunteers. It is hoped that by the end the week that number of volunteers available to schools in Bradford will rise to over 500 – people who are willing to come into schools and perhaps take part in career speed networking, chat to students, provide feedback on a CV, give a mock interview, or consider becoming a governor.
Nick Chambers, Chief Executive of the charity Education and Employers, said: "If we're serious about improving social mobility, the issue must be addressed at primary level. Inspiring Bradford is a national first – a truly collaborative effort to get volunteers into both primary and secondary schools and we hope that many other areas of the country will use this as a way of inspiring their young people.
"The intention is to create a real buzz across the district. This is a week of celebration involving volunteers from all levels – apprentices to CEOs, and from all sectors – archaeologists to zoologists. We hope it will provide real inspiration to young people in Bradford."
To stay up to date with the events as they happen, follow us on twitter @inspiringTF.
To see further press coverage of the event:
GO TV – subtitles to be added:
https://www.youtube.com/user/EducationEmployers/featured
Bradford Telegraph and Argus
http://www.thetelegraphandargus.co.uk/news/15596496.Top_figures_from_business_and_public_service_begin_week_long_event_to_inspire_Bradford_youngsters/
Pictures: 
Schedule of events: