On the 12th of April 2022, St Mary's Primary School in Pomeroy hosted a fantastic in-person and virtual Primary Futures event. The purpose of the event was to enable the children in Years 6 and 7 (Years 5 and 6 in England) to learn more about the wider world and different types of jobs and career routes and how these might relate to their learning and the subjects they are studying in school.
Through the hybrid session, they were able to meet volunteers from the world of work in their local area of Dungannon, Mid-Ulster and across Northern Ireland in person, as well as via the virtual link with two volunteers joining from England and one from Dubai.
Part of the event revolved around a particularly exciting, virtual game of Primary Futures 'What's My Line?' – an interactive activity where the children were asked to guess the jobs of four volunteers through a series of yes or no questions. The children had some excellent questions for the volunteers, including 'do you wear a uniform?', 'did you go to university?', and rather pertinently 'can you work from home?'. After all of the children's guessing the volunteers revealed themselves to be Northern Ireland-born Dr Deirdre Hughes OBE: Academic Researcher who now lives in England; Alana Taylor: Production Coordinator at ITV based in London; and Captain Mike Clegg: Principal Surveyor for Matthews Daniel who is based in Dubai. The other volunteer was Aoife Dougan: All-Ireland Boxing Champion who joined virtually but then surprised the children by later appearing in person!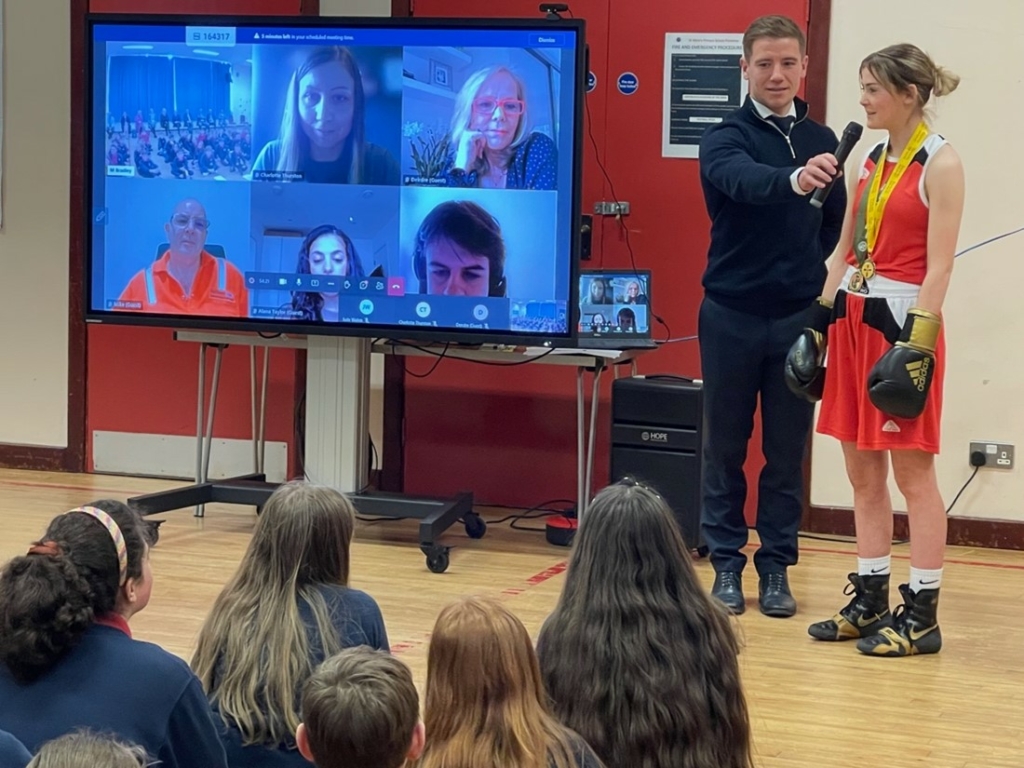 The children were then able to engage in an additional, live 'What's My Line?' session with a number of additional volunteers, including Andrea Begley a Musician and Solicitor, Linda Stinson, Founder of Bellamianta Cosmetics, and Kerry Sweeney, Technical Author for a local engineering company.
Following on from the fun of the 'What's My Line?' game, the children were able to take part in 'classroom chat' style sessions with the in-person volunteers. This included senior representatives from the Department for Education, the Department for the Economy, and the Education Authority. Volunteers chatted to the children and answered questions about their jobs and the world of work more broadly. The children also had the chance to show the volunteers their drawings from their Drawing the Future activity, a task where children are asked to draw what they want to do when they grow up.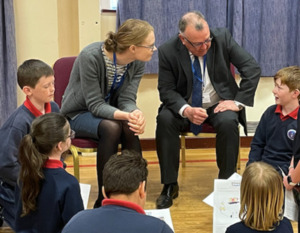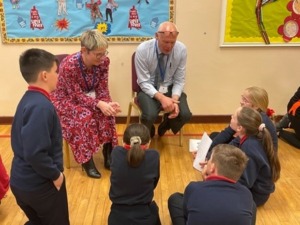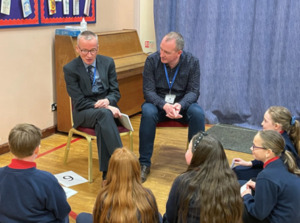 By meeting such a diverse line up of professionals from various backgrounds, children are able to develop an increased awareness of the opportunities that are available to them when they leave school, thus broadening their horizon.
Thank you to all of the volunteers for their participation, and to Mrs Hinfey, Acting Principal at St Mary's, and her staff team – particularly Mr Bradley and Mr Coyle for hosting the live 'What's My Line?' activity – and to Damian Eannetta, Principal at St Mary's.
The Primary Futures event at St Mary's Primary School follows an in-person event that took place before Covid at Ballysally Primary School in Coleraine in March of 2019. The BBC featured the school's work on aspiration raising.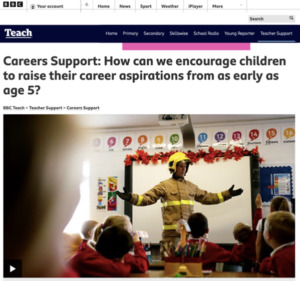 As a result of the event, several of the children were invited to attend an event at Number 10 where they asked the Prime Minister questions about his job and what his alternative career would have been. ITV filmed this clip showing his surprising answer.