Helping to make the link between languages and the wider world.
The BBC reported in February 2019 that foreign language learning is at its lowest level in UK secondary schools since the turn of the millennium.  The teaching profession, government agencies, and commerce have all considered how to reverse this worrying trend.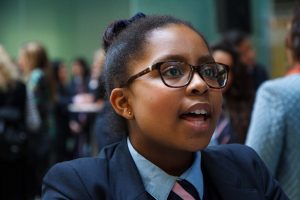 The charity Education and Employers has showed through its renowned and robust research that one way to inspire young people, raise their aspirations, and see how what they are learning in school relates to their future is by inviting volunteers from the world of work into schools.
Inspiring the Future is the free, national service run by the charity that connects an ever growing pool of volunteers (50,000 as of April 2019) to primary and secondary schools and colleges across the country.
Working with language school teachers, the charity has launched the Inspiring Languages campaign, which helps to support schools ton connect with language speaking volunteers to help enrich teaching and show students the value of learning another language.  Lots of out Inspiring the Future volunteers have indicated they speak another language and can talk about how this has been useful in their career.  These volunteers, drawn from across the country, speak a diverse range of languages and work in a very wide range of occupation and for organisations drawn from all sectors.
How can language speakers help inspire young people to study a modern foreign language.  Activities that have been successful in schools include:
Speaking to students about the benefits of knowing another language during a languages subject lesson.
Activities to celebrate European Day of Languages – our volunteers can share stories about their careers and experiences of using languages in their jobs.
Increasing uptake at GCSE or A Level – several schools invite volunteers in to Options Evenings to show students how languages are useful in the world of work.
Careers talks: Volunteers can speak about how they use languages in their professional lives and to show the wide range of careers that a language degree can support.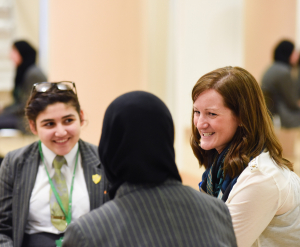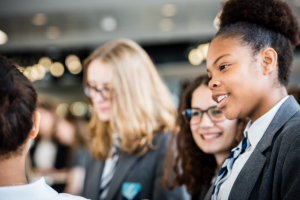 How to find the language speaking volunteers in your area on Inspiring the Future.
It's very quick and easy to search for and contact volunteers who can speak these languages on Inspiring the Future.
Register or login to Inspiring the Future and click on Search for Volunteers.
Select Career Insights as the activity and on the Languages filter select the language of your choice from a list of over 20 languages, including German, French, Urdu, Mandarin, Spanish, and Polish.
Press search to see the available volunteers in your area – you can chance from the Map view to a list view to see a list of those available.
View the volunteer profiles and click 'Add to shortlist' to select those you are interested in.  At the bottom of the page, select Create New Opportunity & Invite and follow the steps to send those volunteers a message.  You will get an email notification when they respond and you can continue conversations to organise the volunteer visit.
To contact volunteers for free or if you'd like to know more, please email enquiries@inspiringthefuture.org.