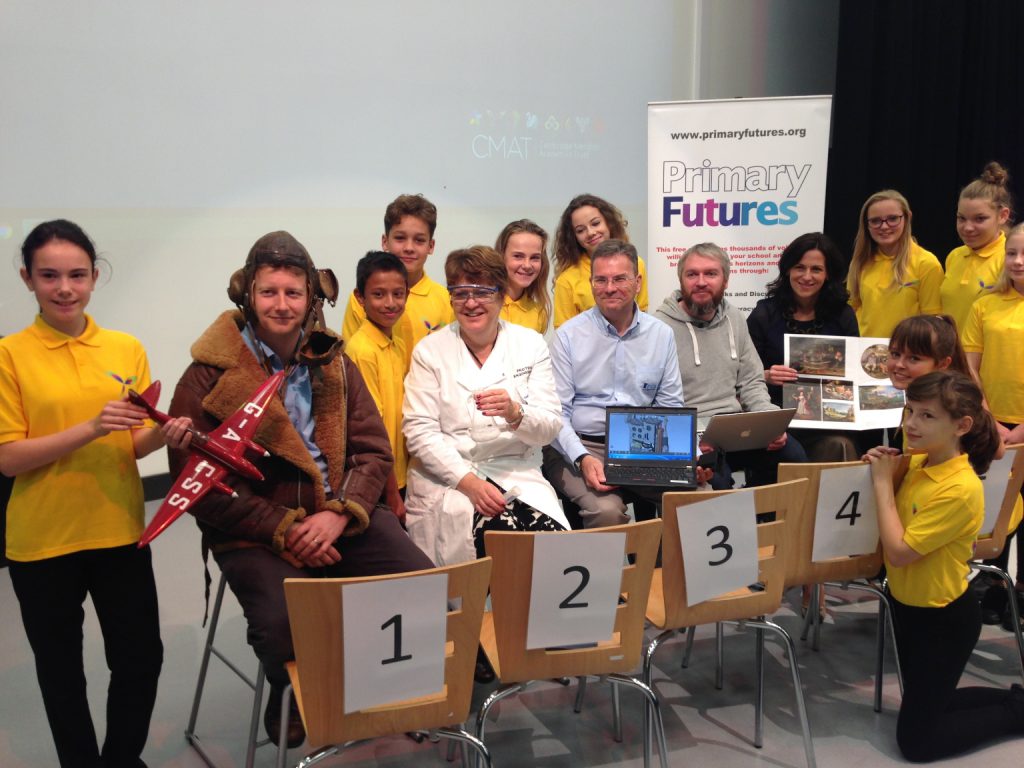 Last week Inspiring the Future came together with the North Cambridge Academy to host an event for primary and secondary school pupils from the local area. On Thursday 20th October over 30 volunteers came together to raise awareness of Inspiring the Future in Cambridge. With more than 300 pupils in attendance, the aim of the event was to help introduce young people to the technology and creativity sectors, and raise their aspirations about the paths they can follow.
Watch a short news feature about the event.
The hope is that this event will encourage many other schools in Cambridgeshire to sign up and host their own Inspiring the Future event. Whether it is inviting one volunteer to talk in a classroom, a range of volunteers to talk in an assembly or to talk at a careers fair, any way you can invite a volunteer into a school is invaluable to encourage students, especially those from disadvantaged backgrounds, to aim high.
Amongst the volunteers in attendance were Air Vice Marshal Elaine West CBE (the most senior woman in the armed forces), Dame Athene Donald (University of Cambridge professor), Daniel Zeichner (MP for Cambridge) and Dr Tim Coulson (Regional Schools Commissioner for East of England and North-East London). Volunteer representatives from WE Education, Devicescape, University of Cambridge, the Civil Service and many others also took part.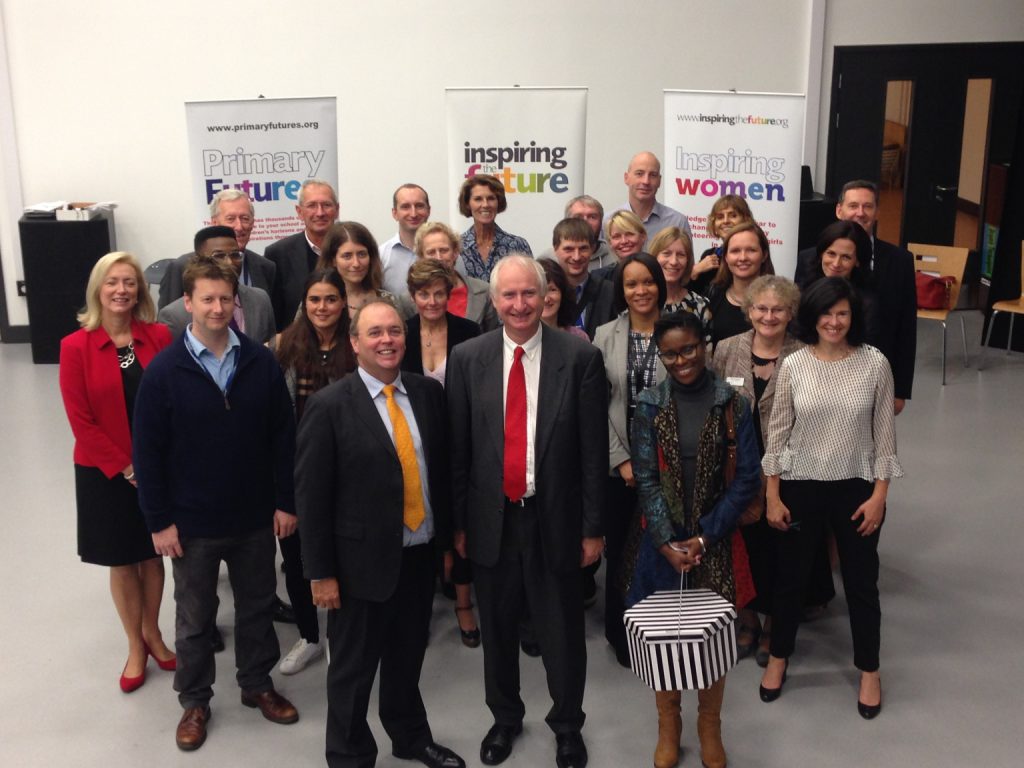 The first half of the event focused on the Primary Futures campaign, starting with a 'What's My Line?' event. This was followed by volunteers talking to small groups of 8-10 year olds about their jobs to help breakdown gender stereotypes that are formed from an early age and to help link their learning to their futures. The afternoon portion of the event focused on secondary school students, ranging from 14-16 years, engaging in 'career speed networking' with volunteers to learn more about the different paths that can be followed within the creative and technological industries, as well as how different subjects can be put to use within this sector.
There were also a series of Inspiring Women master classes run by Prof Dame Athene Donald DBE FRS, Emily Jupp – Designer and Owner of Milly J Shoes, Dr Helen Watson, Fellow and Director of Studies in Archaeology and Anthropology, St John's College, Jane Paterson-Todd, CEO of Cambridge Ahead, Dr Dana Galili, Research Associate Medical Research Council's Laboratory of Molecular Biology and Isabel Napper, a Technology Lawyer. We were delighted to partner with Form the Future to run the Inspiring Women master classes. Co-founded by Anne Bailey and Michaela Eschbach, Form the Future is a social enterprise connecting schools and businesses in the Cambridge area to deliver Signpost 2 Skills for the Greater Cambridge City Deal. The Inspiring Women campaign aims to link school girls with professional women from a range of different sectors to widen their horizons about the careers they can pursue. Since it began in 2013 the campaign has connected 500,000 young girls with 20,000 inspirational women.
In her welcome speech to the primary school pupils, Elaine West CBE said:
"The world is open to you all. There is something out there for every different person in this hall."
Martin Campbell, principal of the North Cambridge Academy, said:
"I have never believed there has ever been a lack of ambition amongst young people. They are incredibly ambitious but sometimes those ambitions are too narrow. The opportunities through 'Inspire the future' allow young people to see beyond a narrow set of ambitions and to meet people doing jobs they have perhaps never heard of or that they would never dream they could do."
Professor Athene Donald told the secondary students:
"The important thing is to aim, to aspire, to think about your future as well as enjoying your present".
MP for Cambridge, Daniel Zeichner, encouraged the students to aim high in his closing speech, stating:
"Don't let people tell you what your future is going to be. Don't be afraid to dream and to be ambitious about the future."
When asked what she had learnt from the day, Charlotte, aged 9, said "whatever gift you have it will always end up being used in a positive way for a job you want". Charlotte's talents include gymnastics, being the fastest runner in her class, and being very decisive. Charlotte would like to be a police officer or a lawyer in the future.
If you're a school wanting to invite volunteers to speak in your school, or someone who would like to sign up as a volunteer, please visit our website here: ee-itf.helpful.ws