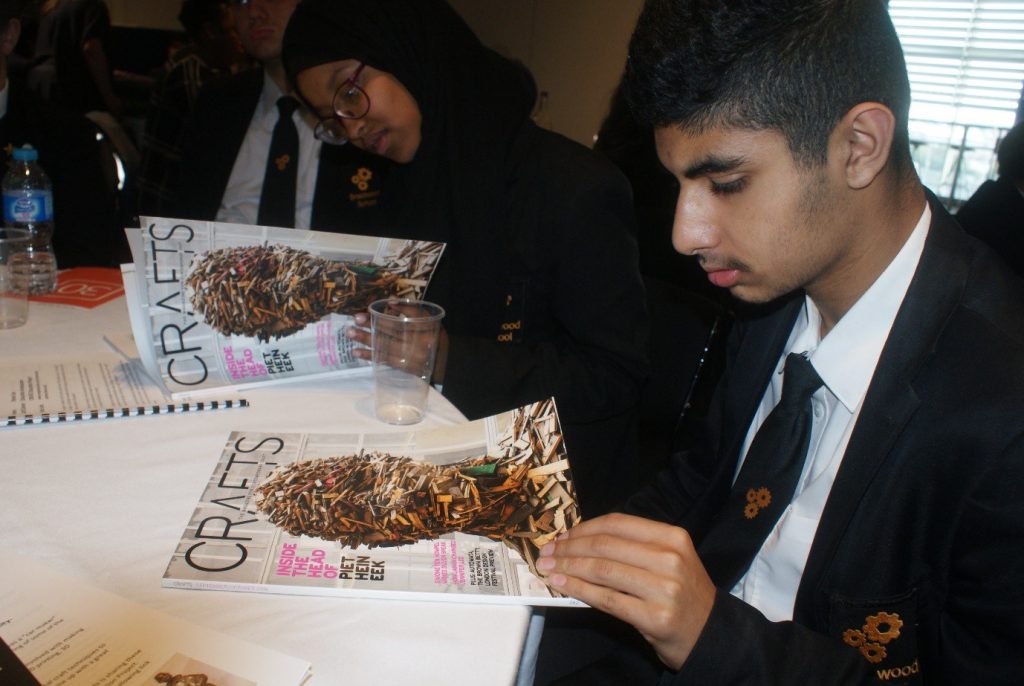 At the beginning of October the Crafts Council and Inspiring the Future held a Meet the Maker event at the Birmingham Science Museum. On Tuesday 4th October over 100 young people from 15 state schools across Birmingham came together with 23 representatives from the craft sector to learn about their career experiences and the route they took to get there.
The craft sector is home to a wonderfully varied and diverse range of roles, such as jewellery designers, creators of 3D printers and furniture designers. However this means there exist many roles that young people may not be aware of. An event such as this helps to raise awareness of these less widely known roles, encouraging the pupil's learning as they are made aware of the many careers they can aspire to.
An education in craft develops creativity, inventiveness, problem-solving and practical intelligence. It also produces the makers of the future. Craft currently contributes £3.4 billion to the economy and over 150,000 people across the UK deploy craft skills within a number of industries including fashion, film, medicine and engineering. Craft and making is vital to our society, culture and economy.
Students partook in 'Career Speed Networking' where they were able to speak to volunteers in small groups, asking them questions about their particular line of work to learn about the many different opportunities that a career in the crafts sector opens up.
Chris Webb, Learning and Participation Manager at the Crafts Council said:
"Craft offers a refreshing approach to learning that resonates with young people. From traditional goldsmiths to makers who use digital technology to build film sets and props; craft skills open the doors to an incredible range of careers. It encourages you to be creative, solve problems, and learn from mistakes. Progression is measured by the development of your own skills and the challenges you set for yourself: very useful lessons whether you aspire to be a ceramicist or a doctor!"
Shahana Burhani, school teacher, said:
"It was a pleasure to attend the event and the students found it very interesting. I feel it made them think differently about craft activities and how they can use some of the practical skills in everyday life as well as linking them to their career aspirations."
 Kynaat, one of the pupils who attended the event, said:
"We asked many questions to these 'craft makers' to get advice and tips on how to start that certain craft. Also, the makers told us about how certain crafts were linked to certain careers, which was really useful to all of us."
Saabrin, another pupil in attendance, said:
'It was great to meet the craft makers. Their work and ideas were excellent, like I had never seen before.'
The following volunteers took part:
Joanne Heywood, Jeweller, Teacher and Writer.
Laurence Butler, Learning and Access Team Lead at Birmingham Museums.
Steve Cox, Education Ambassador at CREATE Education Project.
Deirdre Figueiredo, Director and Curator at Craftspace.
Emma Daker, Exhibitions and Project Development Manager at Craftspace.
Deirdre Buckley, Learning and Development Manager at Craftspace.
Hilary Mayo, Ceramic Artist.
Dr Anne-Marie Carey, Associate Professor in Jewellery at Birmingham City University.
Michael Wong, Silversmith and Artist in Residence at Birmingham City University.
Venessa Miller, Jeweller and Silversmith.
Melanie Tomlinson, Illustration, Scultpure, Dioramas and Jewellery.
Dominic Wilcox, Maker, Inventor, Designer and Artist.
Katrin Moye, Ceramic Artist.
Grant Gibson, Writer/Editor at Crafts Magazine.
Ndidi Ekubia, Silversmith.
Anthony Eccles, Ceramic Artist.
Louisa Taylor, Silversmith and Teacher at Platine Jewellery.
Tina Francis, Tapestry Artist.
Matt Durran, Artist and Innovator in Glass.
Frank Cooper, Birmingham City University Lecturer, Jewellery Manufacturing Technology.
Claudia Noble, Jeweller and Silversmith.
John Grayson, Satirical Metalsmith and Automata Maker.
Keith Brymer-Jones, Ceramic Artist and Potter.
Thanks again to all schools and volunteers who were able to attend the event.
To sign up as an Inspiring the Future volunteer to offer one hour a year speaking to young people visit our website: https://www.inspiringthefuture.org/