Primary schools across Wakefield are running a series of inspiring events throughout spring, designed to inspire children about the huge range of interesting and exciting career possibilities available to them.
Inspiring Wakefield will launched on 13 February at South Parade Primary with volunteers from a wide range of interesting careers, coming in to schools to talk to children about the jobs they love and how they got there.  The event included a 'Key to Success' assembly followed by 'Career speed networking' sessions where children asked questions about the volunteers' jobs.
Inspiring Wakefield, part of the Primary Futures programme is run by the charity Education and Employers and National Association of Head Teachers. Primary Futures connects schools with volunteers via its free, online platform and currently has around 40,000 volunteers –  from App Designers to Zoologists, CEOs to Apprentices – happy to go into schools to help inspire young people.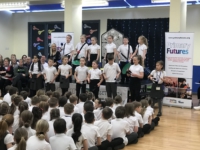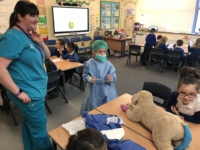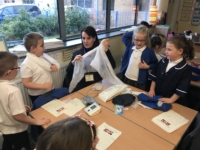 Education and Employers charity's, recent report Drawing the Future which surveyed 20,000 primary school children and was launched at Davos in January, found that gender and other stereotypes in careers aspirations start at primary school age. Inspiring Wakefield aims to tackle this in the area by introducing children to positive role models and showing them that with a working hard at school, they can be whatever they want to be.
A wide range of volunteers participated in the event to talking to children and  gave some excellent feedback including:
"I just wanted to say how brilliant the experience was at yesterday's event – a real feel good factor of a day for all involved. I hope the children got as much out of it as us volunteers did. The children were an inspiration themselves & the assembly format kept us (the audience) captivated throughout. A fantastic day – well done! "
– Chris Fieldhouse, Production Manager, Parker Williams.
"Thank you so much for asking me to the launch of Primary Futures this morning – I think it was the best morning I have ever spent in my job! …this programme is a fantastic way for me to be able to talk to Primary Schools and their children, helping them to think about their future careers.  I hope I was able to help in a small way this morning – I certainly benefitted from seeing your lovely school and meeting yourself, your colleagues and your fantastic children. WDH have signed up to the Primary Futures programme and myself and colleagues will be attending other schools in the Wakefield district over the coming months.  I hope that this is the start of a relationship between local employers and schools that will benefit the district for a long time to come."
– Tim Craven, Social Investment Manager, WDH
"We had a wonderful time at South Parade, what a creative, inspirational, happy environment you have created.  Without exception your students and staff were wonderful!  The assembly was incredible and I was absolutely blown away by the music and singing the students produced, I can honestly say I have never witnessed anything so impressive and it has to be said emotional, I can't wait to come back again."
– Sarah Hopkinson, Social & Economic Impact Manager, Keep Moat homes.
Thank you to all our volunteers  who showed the breadth of career opportunities available in many different sectors and really really helped children to think about all the career possibilities available to them. They included:
| | |
| --- | --- |
|  Author | Sharon King |
| Area Sales Manager YPO | Darrell Craven |
| Arena IT group | Natalie Fox |
| Arena IT group | Tracey Atkinson |
| Audi Wakefield | Shane Lissaman |
| Barrister | Kelly Cronin |
| Beer Huis | David Jones |
| Bio-Medical Scientist | Helen Senior |
| Business Development Director Backstage Academy | Sarah Gledhil |
| Design Engineer | Vince Wigglesworth |
| Employment and Skills Officer Wakefield Council | Gillian Wallis |
| Finance Director KVH studios | Anthony |
| Firefighter | Stephen Wheatley |
| Gaming Designer | John Dennis |
| Head of Audio Operations | Glenn Pinder |
| Head of Wakefield Music Services | Phil Needham |
| Headteacher Wakefield Girls High | Nina Gunson |
| HSBC | Misi Fowode |
| Jeweller | Jackie Dean |
| Journalist | Carmel Harrison |
| Look North Weather Presenter | Owain Wyn |
| Makeup Artist | Carrie Whitworth |
| Midwife, Pinderfields Hospital | Ameila Fowles |
| Mounted Police Man | Paul Oldroyd |
| Muse Tour Director / MD Backstage Academy | Glen Rowe |
| Music School | Melanie Cossins |
| Northern Rail Driving Instructor | Catherine Walker |
| Northern Rail Head of Time Performance Management | Julia Wraithmell |
| Nurse | Melanie Burnell |
| Peripatetic Trainer, Leeds Teaching Hospital | Rebecca McManus |
| Photographer | Kevin Pearson |
| Production Manager Packaging Design Agency | Chris Fieldhouse |
| Programme Support Tutor Manchester University | Dr Tim Gabriel |
| RSR Construction | Craig Hollingworth |
| Scientist University of Leeds | Luke Souter |
| Scientist University of Leeds | Sophie Taylor |
| Senior Pet Health Advisor, Calder Vets | Lara McHale |
| Senior Project Manager University of Leeds | Emma Wright |
| Site Manager, Keepmoat | Felix |
| Social + Economic Impact Manager, KeepMoat | Sarah Hopkinson |
| The Arts | Jaqui Wickes |
| WDH Social Inclusion Manager | Sharon Poole |
| WDH Social Investment Manager | Tim Craven |
| West Yorks Fire Service District Commander | Tim Jones |
| YPO Marketing | Fiona |
| YPO MD | Jo Marshall |
Confirmed schools taking part in Inspiring Wakefield to date are as follows – and more are in discussion about joining the programme.
South Parade Primary, Ossett
Flanshaw Junior Infant and Nursery School, Wakefield
Newton Hill Community School, Wakefield
The Mount Junior Infant and Nursery School, Wakefield
Park Junior Academy, Castleford
Wheldon Infant School and Nursery, Castleford
Half Acres Primary School, Castleford
Glasshoughton Infants Aacdemy, Castleford
Pinders Primary School, Wakefield
Lawefield Primary, Wakefield
Grove Lea Primary School, Pontefract
Altofts Junior School, Normanton
Normanton Junior School, Normanton
Streethouse Primary, Pontefract
If you are interested in becoming a volunteer, please sign up here. Or if you are a school looking to run a similar event, please sign up here.