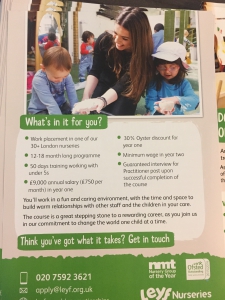 On Friday 13 July, students from Central Foundation Girls' School, Lilian Baylis School, Fulham College and Harris Academy South Norwood were provided with the opportunity to talk to both the Education and Employers and London Early Years Foundation (LEYF) teams about apprenticeships. The morning consisted of talks about apprenticeships, and an introduction to the apprenticeships available at LEYF. Myths and common misconceptions regarding apprenticeships were challenged, leaving the participating students to consider all the routes they could take into the world of work, including apprenticeships.
The morning commenced with a talk about apprenticeships, such as the different types and levels, from the Education and Employers team. We're passionate about ensuring that young people are aware of all the different routes into a career. Which is why in partnership with the National Apprenticeship Service, via the Apprenticeship Support and Knowledge for Schools (ASK), we work with employers to deliver events such as this one to increase understanding of apprenticeships and help teachers prepare students for taking this route.
Next, the students gained first hand insight into the apprenticeships available at LEYF. A presentation introduced them to the apprenticeships on offer at LEYF, and they were when given the opportunity to speak to Noorjahan Begum, a current Early Years Apprentice. Students asked Noorjahan questions about what it's like to be an apprentice at LEYF. They also spoke to the Senior Recruitment Manager, Nursery Manager, and Learning and Development Manager at LEYF about how to apply for apprenticeships and to find out more about the different jobs available.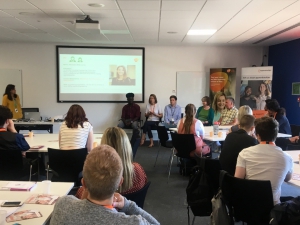 Penny Tongo, Senior Recruitment Manager at LEYF, commented on the high level of engagement and interest from the students:
"We were delighted with the outcome of our Inspiring Futures event, the students were engaged and inquisitive which lead to a lot of interest in our apprenticeship offer."
Gemma Powell, Key Stage 5 Lead Personal Coach at Fulham Enterprise Studio, was delighted with the opportunity the morning provided for her students to learn more about their options regarding their future careers:
"Fulham Enterprise Studio is very grateful to the LEYF and Inspiring the Future for arranging such an insightful event that our students were able to take part in. We were impressed by the value that the LEYF place on their apprentices through their rigorous, but nurturing programme that lasts not just the duration of the course but through their career development.  Accessing information about apprenticeships can at times be a challenge for students but an event of this nature really helped to bring it to life and enabled our students to see what they need to be successful both in their academic qualifications and their interpersonal skills.  A number of our students are keen to apply as a result of this event and I truly believe that this would be a fantastic opportunity for them."
To find out more about the ASK project, and to register your interest in us supporting your year 10 to 13 students, click here.
If you and your employer is interested in working on an ASK project with us you can get in touch with sophie.greaves@educationandemployers.org to discuss.