Awareness days are a great way to show children the futures they could aspire to, while helping them understand the relevance of their learning to the wider world. Access our easy-to-use pre-recorded resources with volunteers for International Women's Day, and invite inspiring volunteers to talk about World Book Day, World Maths Day and more.
New to Primary Futures? We're a free service connecting UK state schools with inspiring role models from the world of work. You can create in-person and virtual activities to connect with local volunteers, or those further afield. Sign up here – it's free and it takes just a couple of minutes.
Tackle gender stereotypes for International Women's Day
Show your class our pre-recorded video activities that celebrate female role models, and introduce children to people in job roles that challenge gender stereotypes.
All Aboard: Travel & Transport – Aviation (KS2): Learn about the roles of pilot Suzy and aircraft engineer Steph
Budding Futures (KS1): Meet builder Kimberley and floral designer Jonathan
Uplifting Futures (KS2): Hear from arborist Jaki, early years educator Sam, subsea engineer Shruthi, and mental health nurse Mike
The videos are accompanied by optional cross-curricular learning resources which encourage children to explore links to core subjects and key skills.
Log in to access on your portal homepage
Invite a volunteer to bring your awareness event to life
A short in-person or virtual talk with a volunteer can help children imagine exciting futures and find relevance in their learning.
Planning for World Book Day? Why not invite a volunteer who uses English in their job to talk to your children about the importance of reading and writing skills. How about a Marketing Manager who might write and read lots of content to promote their company?
If you're looking for a role model to join you for British Science Week, explore our pool of volunteers with jobs in engineering to pharmacy, research to horticulture.
Show pupils how maths is key in lots of different jobs on World Maths Day – consider inviting in a volunteer with a role that may not be immediately associated with maths, such as a Nurse who might use maths to calculate medication doses.
Thinking about National Careers Week? It's a great opportunity to introduce children to a real range of jobs from the world of work and excite them about their futures – explore our volunteers and search by school subject to link to learning.
Remember to search for 'Virtual volunteers' to select from almost 10,000 role models across the UK.
What have fellow primary schools been planning?
A school in Dorset is holding a virtual 'What's My Line?' assembly, where volunteers share clues about their jobs with children to help them guess their roles before sharing more about their day-to-day tasks and what they enjoy about their work.
In Bristol, parents are invited to join online classes to discuss their range of different jobs.
Children in Croydon will hear from two volunteers working in STEM about their jobs and how they use science and maths.
A school in Southall held an in-person 'Local Heroes' afternoon for Y3-6 children. Pupils had the chance to hear from four volunteers across sectors and take part in a Q&A. Children met: an engineer from Amazon Web Services, head of young people at Sky, a strategy advisor in the civil service, and a museum curator.
16 schools across Derbyshire and Nottinghamshire tuned in to a virtual multi-school event focused on challenging gender stereotypes. Pupils heard from a female fire fighter, a male nursery teacher, and a female manufacturing engineer.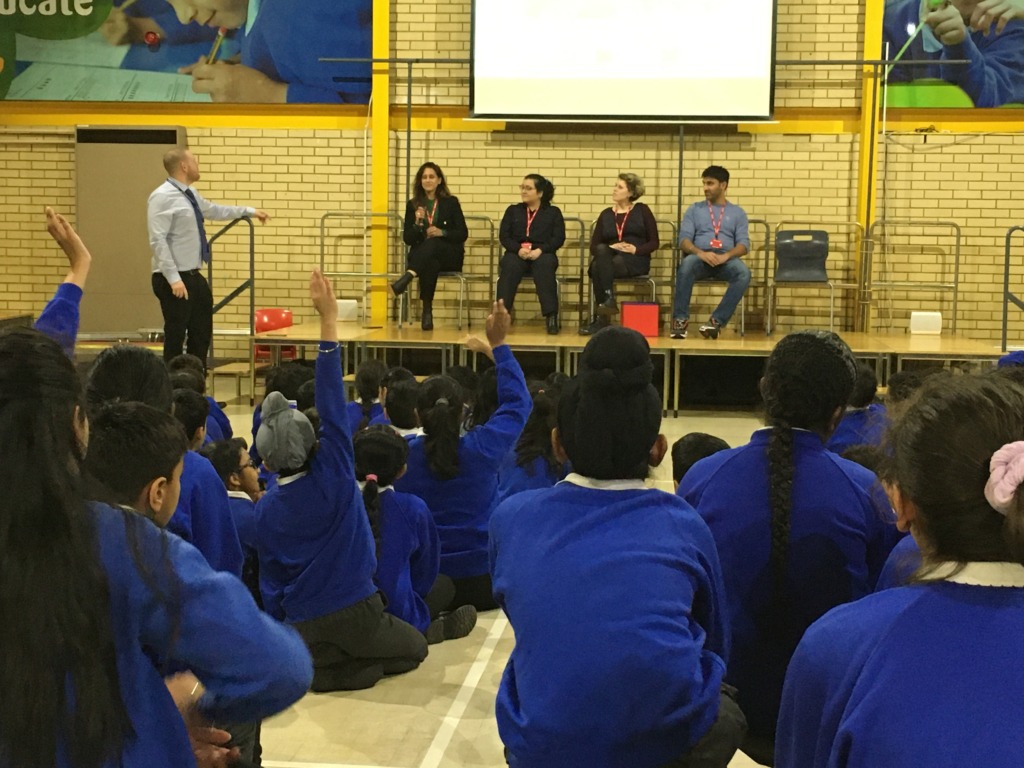 Steps to get planning
Sign up or log into your portal, click 'Manage Opportunities' on the navigation bar, then 'Create New Opportunity & Invite'.
Input details about your activity – the number of volunteers, whether it's virtual or in person, year groups, then add 'Industry sectors' and 'Curriculum Subject' to focus the activity on your topic learning or children's needs. It's good to include as much info as possible in activity descriptions so volunteers know what to expect.
Click 'Save and find volunteers' at the bottom right of the page
You can now invite volunteers – use the map for local role models, or select 'Virtual volunteers' and click on the 'List' view to search for people further afield. You can search by sector, relevant subjects and job title to focus your search.
Keep an eye on replies from volunteers, and get in touch with those who accept your invitation to give them any additional information before your activity.
Log in to get started
Sign up for free
Want to chat through your activity ideas or need help getting started? Our team is here to help – email us at enquiries@inspiringthefuture.org to book in a free planning call.