Primary Futures virtual volunteers come from all different job levels, roles and sectors. We wanted to share profiles of several volunteers to show you just how varied their jobs are, how passionate they are about what they do, and how they get across key messages during activities with children.
Anil Shah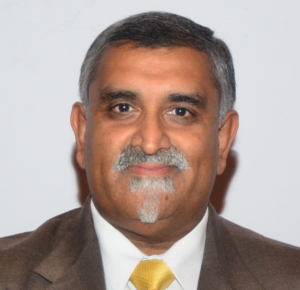 Anil works at IBM, the world's oldest and largest computer company. He is a Technical Programme Manager, helping to drive knowledge and understanding of IBM technologies among the company's clients. As Anil explained during his activities to put his job into perspective for a young audience, day to day his role involves supporting his team to find solutions to problems, writing and creating software, and taking part in training to further his understanding of new technology. Anil began working in the computer industry after completing a degree in Computer Science, and has been at IBM for 25 years in a real range of different roles across the company. For several years, he also managed his son's motorsports career! 
Anil is keen to help children understand the variety of jobs involved in technology industry, and has taken part in primary activities including a STEM day and a 'What's My Line?' with Year 6 pupils. Talking with children, he highlighted the importance of communication skills in a job, such as presenting to others and working with a team. He talked about the challenges he faced in his schoolwork and encouraged pupils not to give up when they found things difficult, and instead to explore new things and discover their own strengths. Pupils were keen to ask if Anil helped to make the technology inside their devices – and lots of the software was developed by IBM! Anil's key messages for pupils were to stay positive, listen and learn, and to always ask when they didn't understand something, even if it seemed like a 'silly question'. 
Reflecting on the activities, Anil commented, "I found the experience very inspiring, as I felt my experience was giving guidance, knowledge and hope to the children. I know many children either do not know what they wish to do, or feel they are not intelligent enough to get high grades in many varied topics at this point in time, so my experience of also not knowing what I wanted to do and not being too smart, I think helped a number of children not to feel too down about it right now, one young person made that exact comment. So being open and frank with the next generation and giving them and idea that real IT is not what just what they get taught at school, is also very useful to all concerned, including the teachers." 
Matthew Supersad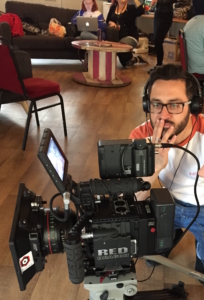 Matt is a TV Producer working in post-production in London. Matt manages visual effects processes, working with creative professionals to implement these for a range of content – including TV commercials, music videos, short films and long-form material such as feature films and TV series. Matt took a non-vocational route to get into the industry, studying languages at university; after writing about film during his course, he went into the practical side of film via a digital filmmaking course. Alongside his day job he has written film reviews and features, edited feature films, worked as a camera operator for live events, and directed and edited films for charities. 
Matt has recently taken part in two virtual 'What's My Line?' activities with pupils from reception to Year 6. He showed children a clapperboard to help them guess his job and bring the role to life – and many pupils were close to guessing his role with their suggestions of Website Developer and Graphic Designer! Children were excited to hear about the famous people Matt had worked for and learnt about his work on a music video for Sam Smith. When asked if there was anything he had found too hard to complete, Matt replied that he talked to people with different experiences so he could learn from them. He stressed the importance of listening to the advice of people around you when making decisions, but not to feel pressured into choosing routes that are not right for you. He told the children, "If you enjoy something, you'll be a lot happier and do better at your job!" 
Matt commented, "It was personally fulfilling and a real joy to be involved in virtual careers talks for pupils of primary schools. I feel that careers advice can often be overlooked in the development and guidance of young people. Primary Futures' virtual events, therefore, are a really important addition to young people's learning about the world around them. Plus it was an opportunity to expose the pupils to disciplines and career paths that ordinarily they may not have known existed or how to access. It's important not to just encourage young people in education but also to inspire them to create their own fulfilling future." 
Genny Jones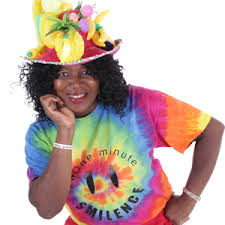 Genny works independently as a Confidence Builder, encouraging both children and adults to develop confidence and believe in their abilities. At college, Genny came across a teacher at college who believed in her potential and sowed the seeds of her future coaching career. She initially studied bookkeeping, completed an accounting apprenticeship, and then worked in the sector for many years. After having children, Genny found a new passion for helping others to believe in themselves. Now, alongside running her accountancy training business, Genny gives confidence talks in schools and has written a motivational children's book called 'I can blow up a balloon'. 
She is a keen volunteer with Primary Futures, and alongside face-to-face activities she has already taken part in four virtual primary sessions including 'What's My Line?' and Classroom Chats. Even during virtual talks, Genny's personality shines through the screen as she encourages children to believe in themselves, to take small steps towards their goals, and to ask for support from others if they can't do something on their own. After talking about her career journey and lessons she learnt along the way, Genny always ends chats with her 'confidence song' to help children remember what they can do to have more confidence in themselves. 
Genny told us, "Being a volunteer really helped me with my passion of making a difference and helping young people to be more confident in themselves. I really learnt a lot about working with young people from your resources. It was good to connect with other volunteers and share experiences.  Seeing you all in the virtual session was great as I could put faces behind the emails. The support and encouragement from your team was great especially again the pre briefing session before we delivered the sessions online." 
Georgia Galloway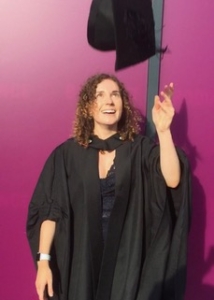 Georgia is a Junior Doctor in her second foundation year. She is currently working in the A&E department at Peterborough hospital, where she sees patients soon after they arrive to assess their condition and decide on the best course of treatment. When she was at primary school she wanted to be a scientist, and settled on medicine in Year 10. Georgia studied sciences and maths at A-Level before going on to her 5-year medical degree, and will be a Junior Doctor for several more years before choosing her specialty and training in a more specific area. 
Georgia recently took part in a virtual 'What's My Line?' activity, where children asked questions to guess her job – guesses included a nurse, scientist, and lab technologist! Children watching were able to see props which helped bring Georgia's job to life, including a stethoscope, medical tape, badge and lanyard, and scrubs. She told children that she enjoyed the problem-solving aspect of her role as well as being able to work with lots of different people, and talked about the importance of supporting co-workers during challenging times. Alongside talking about her role, Georgia highlighted the fact that there are over 350 different jobs in the NHS. Her key advice to the class was not to worry if you don't know what to do at a young age – but when you do decide, make sure it's something you enjoy. 
Georgia commented, "I personally just really enjoyed the experience. I love my job and it always feels great to tell kids more about it. Hopefully they learnt from it too and may consider being a doctor one day!"
Find out how to plan a virtual session for your school