Full of achievements, celebrations and challenges, this academic year has been like no other. We'd like to share highlights from Primary Futures schools this year and thank our supporters and stakeholders for continuing to help inspire younger generations.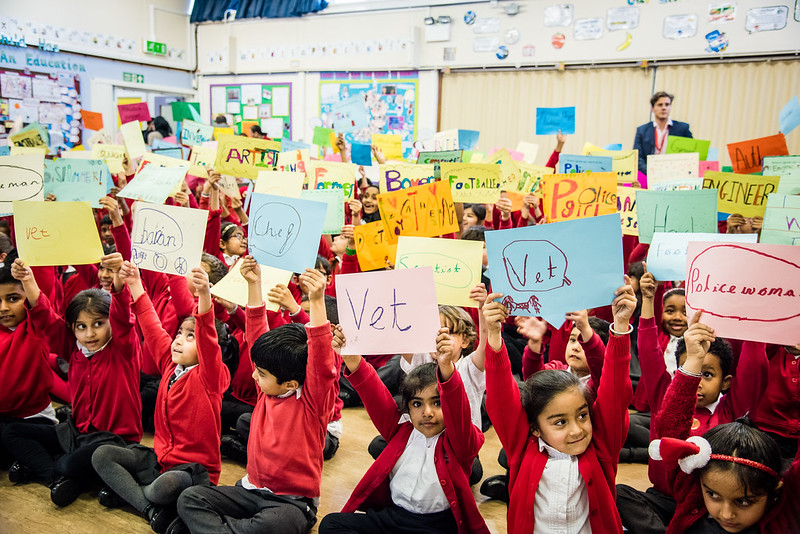 Impact
Since September 2019, over 1,000 schools have worked with us to reach over 250,000 children and young people. This includes helping to deliver nearly 200 virtual activities reaching over 6,000 students, many directly from their homes. Our incredible community has worked to hold a huge range of exciting events and activities, including events with employers such as Royal Warrant Holders and UBS.  
Thanks to our partnership with the Careers and Enterprise Company and the hard work of all our schools, Primary Futures has been able to expand and reach even more children across the UK this year. Throughout the project we have been tracking the impact of activities on children who have participated. We look forward to sharing results of this research, which will come out at the end of this year. 
In May this year, working with teachers, we launched our virtual interactive sessions allowing children to connect with inspiring volunteers from their devices at home and in school. Our online 'Classroom Chats' and 'What's My Line?' activities were developed together with teachers to produce effective experiences for pupils. The sessions have received such positive feedback from teachers, volunteers and students and we look forward to continuing to support schools to inspire children remotely in the next academic year. We also shared exclusive pre-recorded Q&As with NHS staff, which schools can access by getting in touch. 
Events and achievements 
In October 2019, our charity Education and Employers celebrated 10 years of working with schools to inspire and motivate children via innovative and inspiring programmes, including Primary Futures. The anniversary week involved exciting events such as an international 'What's My Line?' assembly including participants from Switzerland and Uganda, and a speed networking Inspiring Women event with over 200 primary school children. We also held a celebration at Draper's Hall with speeches and special performances. Read our 10th Anniversary Brochure. 
On 30th January, year 5 and 6 pupils from six schools involved in Primary Futures had the opportunity to visit 10 Downing Street. After a behind the scenes tour where children talked to Downing Street staff about their jobs, the pupils met the Prime Minister and quizzed him about topics such as leaving the EU, the future of the NHS and climate change. It was a fantastic way for children to learn about the world of work and build skills and confidence.  
In November BBC Teach featured Ballysally Primary School from Coleraine, Northern Ireland in a short film about schools and careers support. The Headteacher Geoff Dunn MBE backs the Primary Futures initiative, recognising the importance of raising aspirations and giving opportunities for children especially in areas of high deprivation. Read more. 
Throughout 2020 teachers have been working closely with us to learn and share best practice around running activities, via teacher CPD events. We hosted events in Wiltshire and Somerset, and have recently been running regular virtual CPD sessions. Teachers can still sign up for the end of year CPD session taking place on 24th July. 
Over 15 teachers have also joined our new Primary Futures teacher ambassadors scheme, which aims to create an online community for schools to share and learn about best practice, and showcase the work their school has done. You can meet our ambassadors here, and get involved here. 
Feedback 
We'd like to share some of the feedback we have received from children, teachers and volunteers this year: 
Children learnt:
"I learnt that you can change your career at any time if you want and that there are lots more types of jobs than I first thought."
"This helped me to understand that learning doesn't stop at school, but carries on throughout life" 
"I learnt that there is a variety of different jobs in the world and I don't have to settle for one at a very young age." 
"To never give up, follow your gut and passion and to work hard." 
"Lots of lessons you learn in school are useful in the long run"
"I learnt to not let someone tell you that you can't do something." 
Teachers said:
"There were professionals there that the students would never have access to so it was a wonderful experience for them" – Teresa Crowley, Notre Dame Roman Catholic Girls' School 
"Though the children I teach are only Primary age, they found it a very worthwhile experience and there was a real buzz across the school. Thank you to your superb volunteers!" – Mark Pollard, Penpol School
"I honestly learned so much and I think the children did too. It was just so nice to see each professional convey the idea that it's okay to take time to choose your profession and that you should always be yourself." – Teacher participating in a virtual session
"It was just so lovely to see how enthusiastic and charismatic all of the professionals were as well as being so passionate about their jobs." – Teacher participating in a virtual session 
Volunteers said: 
"It's been such an amazing thing to do and the reason I've enjoyed it so much is because I love seeing the response from the young people and knowing I have made a difference in one way or another." – Daniel Duffield 
"I believe that young people are under so much pressure to achieve and be top of everything they do.  To instil in young people that they are highly regarded, give an insight into what can be achieved, and the different paths young people can take to get there is important.  Also, giving the information and motivation to change "I can't because" to "I can" is paramount in my opinion." – Una Madill 
"The kids were great! You forget sometimes how bright and curious they really are at that age – great session with them!" – Volunteer participating in a virtual session 
Looking forward 
If you would like to get involved as a volunteer ready for the next academic year, you can sign up here. 
If you're a teacher and your school would like to benefit from inspiring career-related activities and events, sign up here or log into your account. 
We hope you have a restful summer break and look forward to working with you in September.