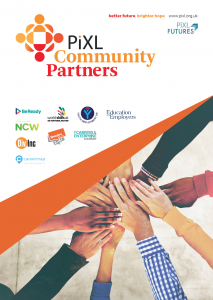 Education and Employers is pleased to be partnering with PiXL (Partners in Excellence) to support their PiXL Secondary and PiXL6 members to engage effectively with employers via its Inspiring the Future programme.
PiXL is a not-for-profit partnership of over 1,600 secondary schools, 500 sixth forms, 600 primary schools, and 75 providers of alternative education.  Our partnership with PiXL will support schools in developing their careers provision through access to Inspiring the Future volunteers, resources, and support.
Education and Employers and PiXL both share the same vision of improving the life chances of young people and supporting schools to improve young people's opportunities for development.
Over the next year, Education and Employers will be working closely with PiXL members and providing insights and expertise from our research into employer engagement at PiXL conferences.  Our research shows that employer engagement helps to improve social mobility, reduces the likelihood of young people becoming NEET (Not in Education, Employment, or Training), increases the amount they earn in adult life, and helps them to make better informed career choices.  We look forward to supporting more PiXL schools with this over the next year.
Interested teachers can sign up for free by clicking here.  When completing your profile, please list PiXL in the 'My memberships of Professional Associations / Trade Unions / Universities and other Networks' section.  A member of our team will then be in touch to set up a planning call to discuss the next steps.
For more information, please email enquiries@inspiringthefuture.org or call 020 75664880.