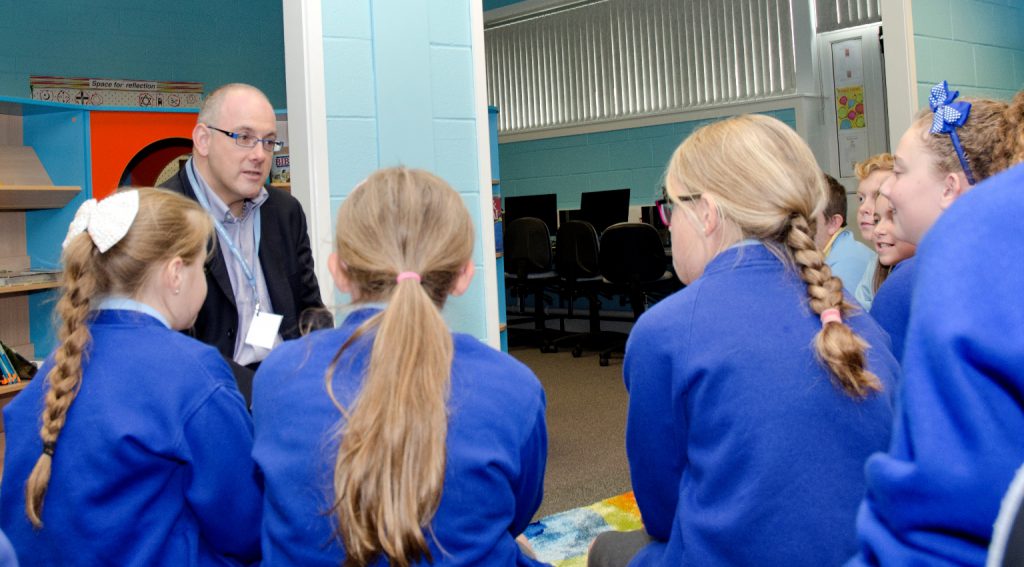 Primary Futures teamed up with Robert Halfon, Minister of State for Apprenticeships and Skills, to host an event at Moor Park Primary School in North Blackpool on Tuesday 27th September 2016.
Following on from the launch of Primary Futures in Blackpool back in June, the aim of the event was to help primary school children in a deprived coastal area see the link between their learning and their futures. Children who can see the relevance of what they are studying are much more likely to achieve as adults.
Events such as these are even more relevant for primary children from disadvantaged backgrounds, who have limited role models and often heavily influenced by TV and celebrity culture, are unaware of the vast range of careers they could aspire to.
The Minister came together with 20 other volunteers to talk with the children about their world of work. Amongst the volunteers were representatives from Capgemini, Lancashire Police and 3 apprentices from MBNA attended to represent Bank of America Merrill Lynch (the charity's main corporate sponsor and strategic partner) and MBNA. This included a 'What's My Line?' event where the pupils asked volunteers questions about what they do. Being given the chance to interact with volunteers from a diverse range of careers made the children aware of jobs they did not previously know existed, broadening their horizons, enthusing their learning and challenging the stereotypes that exist around different jobs. Volunteers also visited separate classrooms, talking to the pupils about the importance of numeracy and literacy.
Minister of State for Apprenticeships and Skills Robert Halfon said:
"We want every child, regardless of background or ability, to have access to a good education – this includes excellent careers advice, so that young people can go on to fulfil their potential and lead successful lives.
Since its launch, Primary Futures has done a great job in helping primary schools to develop closer links with businesses and professionals so that they can play a role in preparing young people for the world of work."
In his speech to the Moor Park pupils the Minister encouraged the children to pursue their aspirations, stating:
"If you've got the will, if you fight for it, you can do anything you want to do."
Joanne Magson, Head Teacher Moor Park Primary School said:
"We believe this is a valuable opportunity for the children in our community to experience first hand how their learning links to their future career possibilities. This event will hopefully raise aspirations and inspire our children to want to succeed in their learning and achievements."
Chief Executive of Blackpool Council Neil Jack said:
"Blackpool is a town built on entrepreneurial spirit and it is never too early for our young residents to start thinking about what the future might hold for them. I am delighted that so many volunteers have already signed up, I am sure that they will inspire our young people and give them a vital insight into the many wonderful opportunities available to them in Blackpool and Lancashire."
Moor Park Primary school pupil Kai Rutland, age 10, said he has learnt that "you have to work very hard in school to get the job you want." Kai would like to be a dog handler in the future and his favourite kind of dog is a husky.
Kai's classmate Molly Hamilton, age 10, said "some of the jobs I've learnt about today I didn't know were jobs." Molly is interested in becoming a lawyer and listening to the volunteers speak in her school has taught her "to never give up."
Volunteer representatives from the following companies were also in attendance:
Blackpool Circus School
Blackpool Council
Blackpool Transport
Capgemini
KPMG
Lancashire Police
MBNA
Prospect Services
Randstad Education
Training 2000 Ltd
VL Lancs
We are delighted to now have over 400 volunteers from Blackpool who have already pledged to give an hour a year to visit a state school and chat to young people about their jobs. The aim now is to double that number  – teachers and volunteers can sign up here: https://www.inspiringthefuture.org/
For more information on the national Primary Futures programme please contact charlotte.thurston@educationandemployers.org.
Follow us on twitter @PrimaryFutures