As the new academic year starts, we are pleased to announce that Primary Futures will be expanding to work with more schools over the next academic year thanks to funding from AKO Foundation and the Department for Education / Careers & Enterprise Company Primary Fund.
Primary Futures received the largest amount of funding from the Primary Fund to increase the scale of Primary Futures, which aims to broaden the horizons of children through making connections between their learning and futures.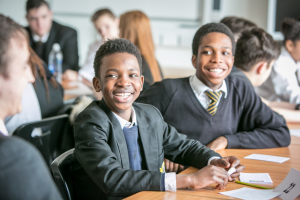 Through the funding, we will be able to offer enhanced support to schools including:
Bespoke support and new resources to help schools plan and run activities across the academic year
Targeted regional campaigns in areas to build on the success of previous local campaigns in areas including Bradford, Blackpool and Dorset
Teacher training to help increase teacher understanding and confidence to run events with volunteers from the world of work
New volunteers and employers to support ongoing activities in schools
Nick Chambers, CEO of Education and Employers, said:
"It will help us bring to life the breadth of the world of work to more than 23,000 primary aged children in 330 primary schools over the forthcoming academic year and will create a step change in the provision of career-related learning.
"We know from our research that children at primary school can rule themselves out of future career paths even at this young age, so it is vital to bring the world of work to life through our fantastic volunteers. We look forward to challenging perceptions around job roles and inspiring the next generation through this funding."
To register your school or to volunteer for Primary Futures, please sign up at localhost
If you would like more details about how your school or employer can get involved with primary Futures, please email enquiries@inspiringthefuture.org or call 020 7566 4880