Volunteers from the Department for Transport, including the Permanent Secretary Bernadette Kelly and all her executive committee members as well as other staff including an apprentice, visited pupils at St Paul's Cray School in Bromley, Orpington today . They took part in a transport themed Primary Futures event chatting to children about their job and career route. Other volunteers from the transport sector came from organisations including Brompton, Carillion PLC, Transport for London and Heathrow Airport.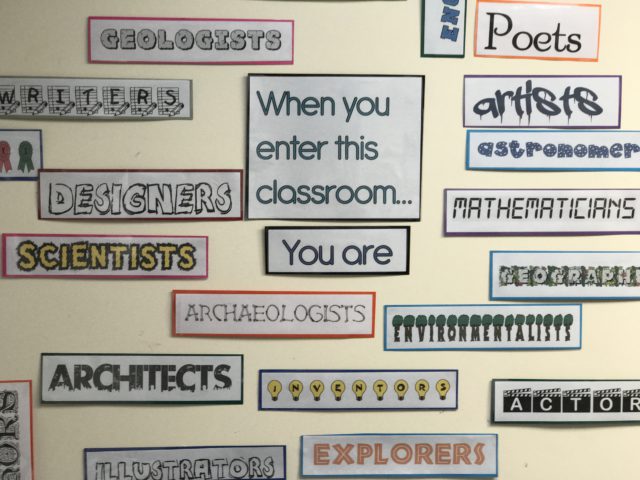 To see all photos from the day check out our Flickr album.
Coinciding with International Women in Engineering Day, the morning's events also focused on breaking down gender stereotypes that exist around the roles women can pursue and which are formed from primary school age, as shown in our #RedrawtheBalance video.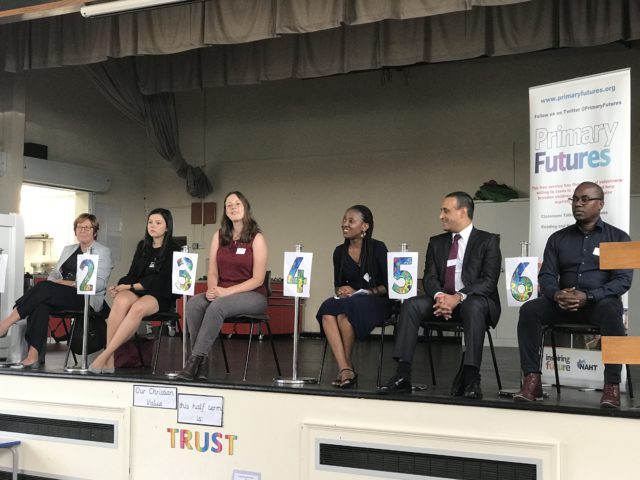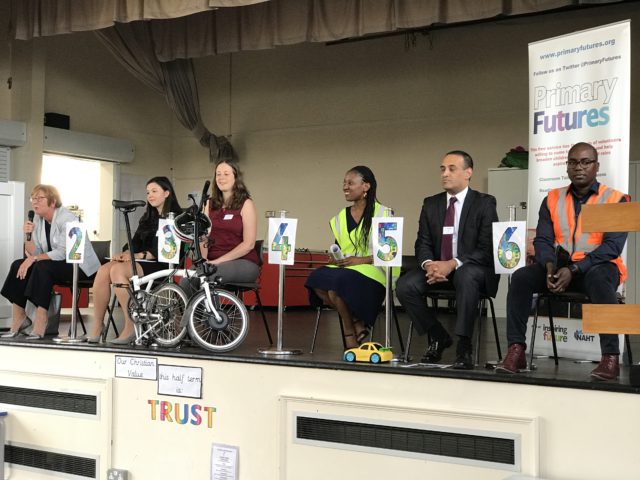 Volunteers taking part represented a range of roles within the transport sector, including Rail Systems Engineer, Senior Policy Advisor, Traffic Design Engineer and Director General. The morning began with a 'What's My line?' assembly, where pupils were given the chance to question and guess the job roles of a mystery panel of six volunteers. This activity is designed to challenge gender stereotypes as pupils' preconceptions about what jobs are held by certain genders are dispelled. This activity also broadens horizons by introducing children to job roles they may not have known existed.
Volunteers then visited the classrooms to talk to the pupils in small groups, giving them a chance to ask the volunteers more in-depth questions about their roles. This also served as an opportunity for volunteers to illustrate how they use literacy, numeracy and science in their day to day lives, helping the children to make the important link between their learning and their futures.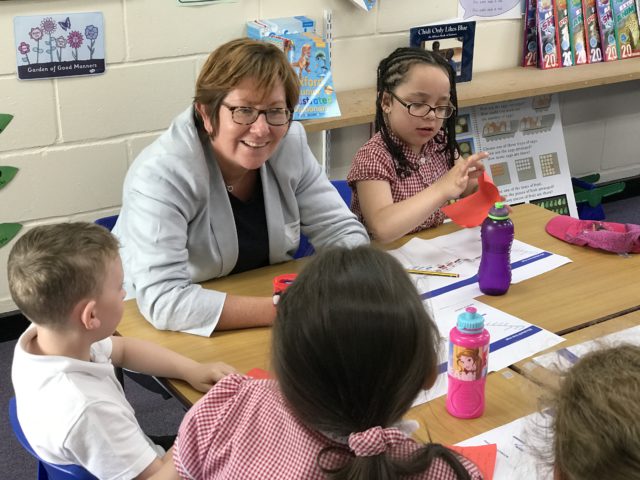 Bernadette Kelly, Permanent Secretary at the Department for Transport said:
"It was a pleasure meeting the children at St Paul's Cray primary school and hearing about their wonderful aspirations for the future.
"Our Executive Committee's visit was a fantastic opportunity to join up with volunteers from across the industry and talk to the children about some of the roles across the transport sector. We were also able to break down some of the gender stereotypes that are often associated with transport jobs.
"It was also an opportunity to emphasise to the children how their numeracy and literacy tasks will help them achieve their aspirations in the future."
Sue Hickman, Assistant Head Teacher of St Paul's Cray C of E school said:
"My school, St Paul's Cray C of E school in Orpington,  were honored to receive more than 20 Inspire the Future volunteers today.  The children enjoyed discussing their own career  aspirations and hearing from the different  volunteers about their jobs and  the importance of English and maths in their every day work. Today's  event gave them insight on the huge scope of jobs that are open to them and more importantly  broke down any gender misconceptions that they maybe had about certain jobs. The children, without any prompting, asked sensible meaningful questions to the volunteers and engaged in many delightful conversations.
"I urge all schools to look at the Inspiring the Future website and see the wealth of people in their locality who volunteer their time to talk to children.  Thank you for inspiring their future."
Feedback from the pupils included:
"I'm sure our school took in some advice from people who told us about their fascinating jobs. I'm sure the whole school is amazed!"
"Thank you Primary Futures, for helping me understand more about jobs and my future."
"I've learned so much about transport and what kind of subject I need to take to achieve my goal. Thanks a million!"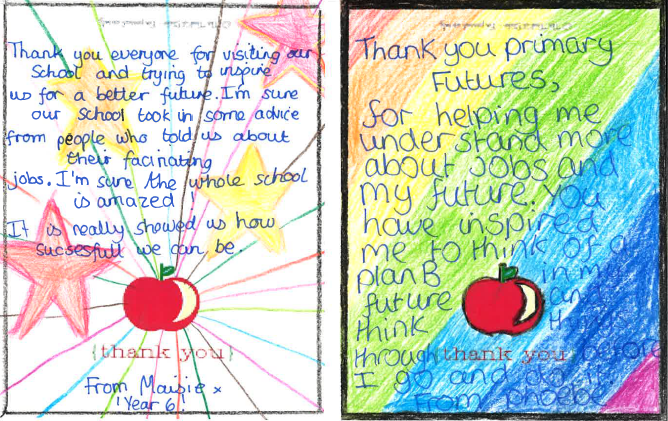 Schools and volunteers interested in signing up to Inspiring the Future and its Primary Futures campaign should visit ee-itf.helpful.ws.
Employers who would like to partner to organise a school event should contact enquiries@inspiringthefuture.org.
Many thanks to the following volunteers who took part:
Zaynah Aslam – Group Talent, Learning and Capability, Department for Transport
Simon Baugh – Director of Communications
Lucy Chadwick – Director General, International, Security & Environment
Rachael Etebar – Director of HR
Tricia Hayes – Director General, Roads, Devolution & Motoring
Jo Guthrie – Partnerships Manager, Year of Engineering
Natalie Jantjies – Traffic Design Engineer, Transport for London
Nick Joyce – Acting Director General, Rail
Bernadette Kelly – Permanent Secretary, Department of Transport
Cleveland La Touche – Rail Systems engineer, Carillion Plc
Emma Lucas – Graduate, Transport for London
Jonathan Moor – Director General, Resources & Strategy
Claire Muir – Business Development Director, Arvato AG
Nick Olley – Legal Counsel
Michael Perie – Senior Policy Advisor, Department of Transport
Eleanor Rodgers – Product Design Engineer, Brompton
Sundeep Sangha – Head of Economic Development, Heathrow
Buki Sobanjo – Engineer, Transport for London
Cara Stimson – Industry Agreements Manager, Transport for London
Gabrielle West – HR Policy Manager, Department for Transport