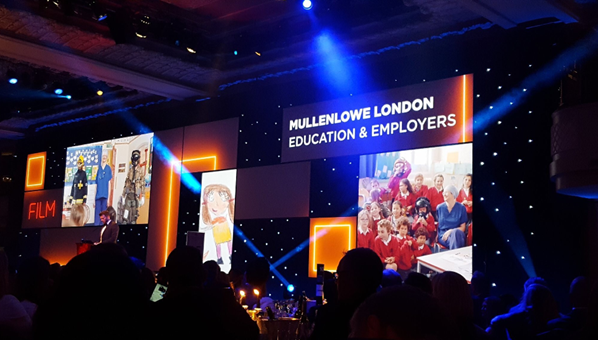 Our #RedrawtheBalance video, which now has over 27 million views, has won a silver Campaign Big Award. The Campaign big awards is an annual event held to recognise and celebrate creating advertising in the UK across 16 different product sectors. Having already gained media attention on a global scale from Australia to Zambia, on Wednesday evening the video was celebrated once again at the Campaign Big Awards show.
The video, made by Mullen Lowe, evidences the gender stereotyping that impacts a child's ideas about their possible career paths from primary school age. From as young as five children already begin to categorise and rule out careers for themselves based on gender.
(Redraw The Balance video on the Mullen Lowe website)
Richard Denney, Director of MullenLowe London comments "It's our responsibility as working professionals, as well as educators, to encourage and inspire young minds that the majority of jobs and roles today are available for women, and not just men. These young minds are our future."
In the two minute video, a classroom of children are asked by three 'teachers' to draw a firefighter, a surgeon, and a fighter pilot. Out of 66 drawings, 61 were drawn as men and only 5 were drawn as women. The 'teachers' then reappear in their uniforms to reveal their true professions. When the children learn they are in fact a firefighter, a surgeon and a fighter pilot, they are in disbelief. One of the children can even be heard claiming "fake", highlighting once again the impossibility already formed in a young child's mind that these professions are open to women.
We are delighted the video continues to raise awareness and encourage others to take action. However there is still progress to be made. We currently have over 31,000 volunteers signed up to talk to state school and college students to breakdown gender stereotypes and help raise aspirations. Our aim is to reach children all over the country. By signing up to our Inspiring the Future mentoring programme, you can help to tackle the problem where it starts. All we ask for is one hour, once a year, to help make a difference.
To sign up quickly and for free as a volunteer visit our website here.
Thanks again to Mullen Lowe for partnering and creating the video for us, and to all our volunteers for making change possible.
https://www.facebook.com/Upworthy/videos/1274105239296998/