Inviting our volunteers from the world of work to support a career's week is a great way to bring student's education to life. They can talk to your students about the different jobs and routes into these jobs available to them. Volunteers can support with a range of activities throughout a career's week. Hyland's School spoke to us about how they use volunteers to support their year 12's Careers' Week – why not use this as a template for your own career's week?
Activity ideas to run during a Careers' Week
Hyland's School run a series of activities for students to participate in, all designed to help students better prepare for the transition from school to employment or higher education. Here are just a few ideas of the types of activities you could organise: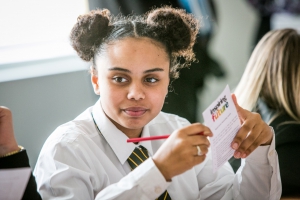 Interview skills session with volunteers speaking to students about the dos and don'ts of interviews and offering invaluable advice
Mini careers sessions with volunteers as guest speakers to talk about their career
Mock interviews where the volunteers act as the interviewers and feedback to students on their performance
Assembly presentations where volunteers present to students about their career, sector and opportunities in the sector
External workplace visits where students visit a volunteers workplace to gain first hand experience and insights of a workplace environment.
Using Inspiring the Future to coordinate a Careers' Week
Hyland's School says that Inspiring the Future is a really handy resource because:
An event can be easily added to the website for which you can then request volunteers
Such volunteers are pulled from a wide range professions and industries ensuring students meet vibrant volunteers who provide current information about the world of work
It makes it easier to coordinate messages and information sent
Also, there is a large number of volunteers to choose from.
The impact of employer engagement
Students at Hyland's School have said that they really benefited from understanding what it was like in a real interview situation and what they need to consider for the future.  They felt better prepared for future experiences. The impact at Hyland's School:
Better understanding of the need to focus on employability skills as well as academic qualifications. Volunteers help them to understand the  employability skills/soft skills they will need as well as qualifications for successful application to future jobs
Better prepared for future interviews and the world of work. Volunteers help students to understand the level of preparation needed
Increased understanding of the range and diversity of training routes available
An understanding of people's real life career experiences.
The future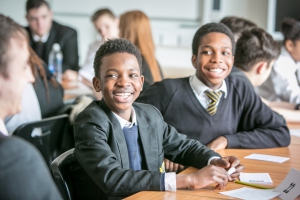 Hyland's School plans to continue using Inspiring the Future to invite volunteers in from the world of work to support more activities including:
Careers Speed Networking
A range of employer based activities including Higher Education ones.
Thank you to Wendy Wood, Careers Adviser at Hyland's School, for taking the time to share how the school has used Inspiring the Future to positively impact students.