Upcoming webinars
Info Webinar- Using Inspiring the Future to deliver experiences of the workplace
Wednesday 28th April 2021, 3:30- 4:00 PM
Aimed at new as well as seasoned Inspiring the Future users, we will be hosting a special information webinar to support school staff to prepare for the summer term ahead. During this webinar we will be providing guidance on using Inspiring the Future to help you virtually meet Gatsby Benchmark 6; Experiences of the workplace.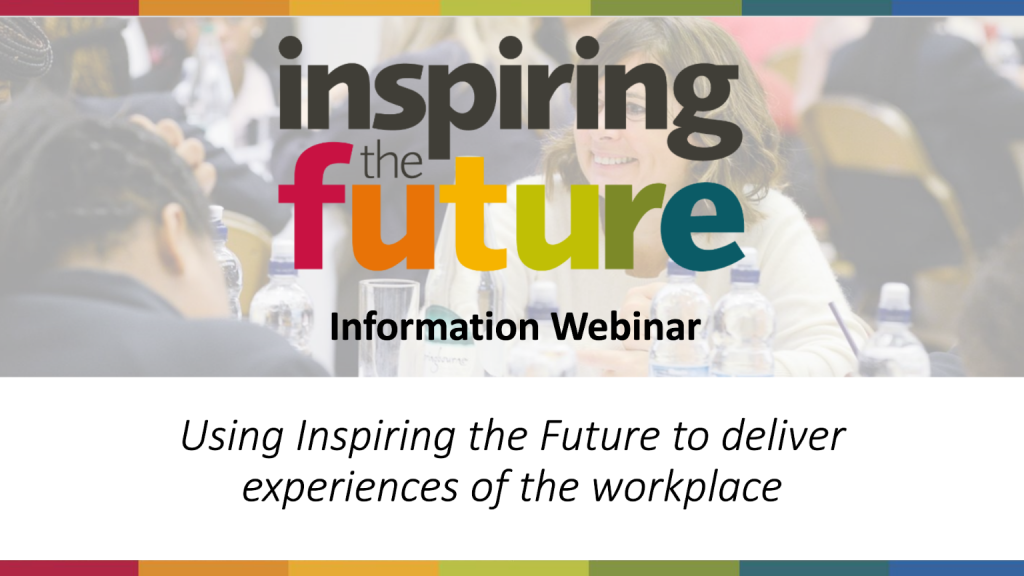 Past webinars
Bringing the world of work into schools in a virtual era
With The Careers and Enterprise Company – 28th January 2021
Tried the Inspiring the Future portal in the past but struggled to find locally available volunteers? Worried about the tech side? While the pandemic has narrowed young people's lives, virtual activities widen the breadth and range of volunteers students can access and even alleviate some of the logistics of hosting visitors once you have the know-how. Schools across the country have told us that virtual encounters mean they can have everyone from a marine captain to a BBC Sports producer on their doorstep.
100% of attendees found the CPD helpful
60% said they now feel very confident or extremely confident in organising virtual encounters using Inspiring the Future
"Just the right length, practical and all very relevant – probably the best CPD session I've attended as it was all so clear and useful."
Deepening meaningful virtual encounters with employers and employees  
With The Careers and Enterprise Company – 3rd February 2021
If you are a seasoned Inspiring the Futures user and/or already confident at sourcing volunteers and hosting activities, consider how to take things further to maximise the willingness of the 9,000+ volunteers from across sectors available on the platform. Consider how to enlist subject leaders with sector-specific activities, how to use the portal to meet Gatsby Benchmarks 4 to 7 and how to deliver alternative careers provision with Inspiring the Future volunteers.
100% of attendees found the CPD helpful

88% would be interested in attending another CPD in future
Teacher CPD with an Aviation twist: How to use virtual volunteers from Aviation to inspire students' in STEM
With this sector specific CPD webinar you'll hear directly from our special guests, aviation employers – the Civil Aviation Authority and Department for Transport, as well as from a school who'll be on hand to describe their recent experience. You'll learn about our campaign to engage a broader range of diverse volunteers from Aviation and how you can create meaningful virtual employer engagement activities with the wide spectrum of aviation volunteers available on the platform. From helicopter pilots to engineers, commercial pilots to surveyors and legal advisors. You name it – we've got it!
To receive the webinar recording, please get in touch with Derrick at Derrick.Otchere@educationandemployers.org
Information webinar
Missed our recent information sessions? You can watch the recorded webinar below:
If you have any questions about the webinars or Inspiring the Future, please get in touch at enquiries@inspiringthefuture.org.