"Being able to post on a UK wide platform, from our school in rural Aberdeenshire in Scotland, meant we were able to engage with someone living in London who could share their story of how they started working in fashion and their route into it."
Name: Mr Cameron MacKenzie, PT Curriculum and Mrs Chris Dunhill, BCSO
School: Kemnay Academy
Roles of each person: Principal Teacher of Curriculum and Business & Community Support Officer
Area: Aberdeenshire, Scotland
Tell us a little bit about your school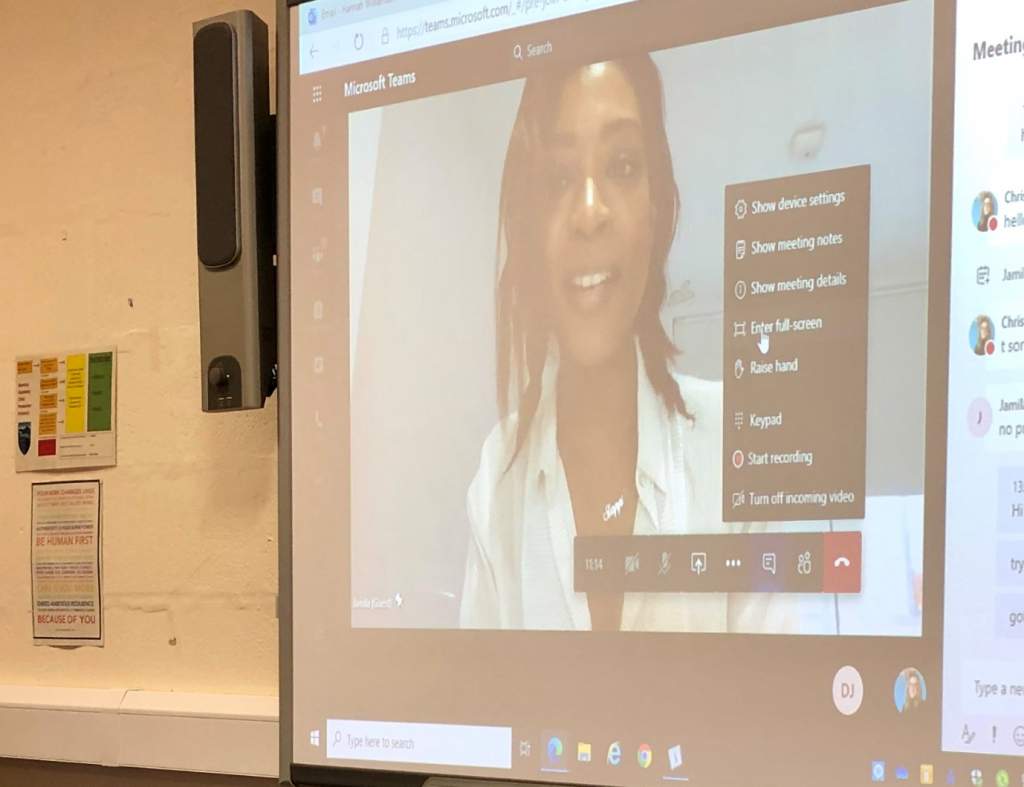 Kemnay Academy is a secondary school in Aberdeenshire, serving pupils from the local community that are aged between 11 and 18. In our school we strive to increase our engagement with business and community partners in order for our pupils to develop meaningful experiences with a wide range of possible future job and career opportunities.  
Our curriculum is designed to enable our pupils to make connections between the learning that takes place across different subject areas. This is achieved through our Interdisciplinary Learning (IDL) projects, where pupils work with each other, their teacher, and business and community partners on authentic, real-world problems and issues.  
Why did you decide to get involved with Inspiring the Future?
Our Business and Community Support Officer had organised 'What's My Line?' events with Primary Futures within a primary setting and when she started working at Kemnay Academy through The Wood Foundation's Excelerate investment, she was keen to take advantage of the wide network of contacts who have volunteered to inspire the next generation. Excelerate empowers innovative teaching and learning approaches and so engaging with professionals who can provide real life context for pupils through Inspiring the Future is a great way to support this.
We wanted to open up the net wider to find someone with first-hand experience of the fashion industry. Being able to post on a UK wide platform, from our school in rural Aberdeenshire in Scotland, meant we were able to engage with someone living in London who could share their story of how they started working in fashion and their route into it.
What kinds of activities have you held with Inspiring the Future?
Through using the Inspiring the Future portal, we connected our S1 pupils with Jamila Roberston, Founder & CEO of a beauty app called Slapp which matches beauty products to skin tone. Our students working on their 'Is fashion relevant to our world' project had the chance to ask Jamila questions about the app she has developed and which subjects she finds useful in her current role. Our pupils learned a lot about the industry. For example, they were not aware of internships as a way of gaining experience to get into the Fashion Sector and this was a real eye opener for them.
How did your volunteer engage with the students?
Jamila Robertson provided a valuable insight into the fast pace and excitement of the fashion industry in London. Her enthusiasm shone through and her presentation was perfectly pitched for our 11-12 year olds in their first year of secondary school.
Following on from her virtual visit, for the next class of pupils involved in this project, we asked Jamila to share her expertise around creating online content by creating a short 'how to' video. Pupils were being tasked to make short videos about the face masks they'd made and Jamila's video really helped them. She recorded a very engaging and personalised 'how to' video outlining what they could consider when planning, filming and editing their own videos.
What kind of impact do you think the activity has had on students participating?
Pupils really learned from watching Jamila's video message to them. They got tips from a professional about what to think about when talking about their 'products', i.e. masks, and learned how a professional prepares content.
Working with partners that have first-hand experience of working within their industry brings authenticity to the learning of our pupils. It also widens their horizons for possible future job and career opportunities and gives our pupils a richer experience of the world of work.
What would you say to schools interested in signing up with Inspiring the Future?
I would whole-heartedly recommend schools sign up to enable them to connect with enthusiastic volunteers who can really enrich their pupils' learning and increase their experience of the workplace.