"One thing I learned from volunteers talking about their jobs is…that you can complete your dreams but you need to work hard to get there." – Pupil taking part in Primary Futures activity
Primary children, who are among those who have missed the biggest proportion of their schooling during the pandemic, can be motivated and inspired through live, interactive virtual Primary Futures activities where they meet and question a diverse range of working people across the UK from electrical engineers to Antarctic explorers.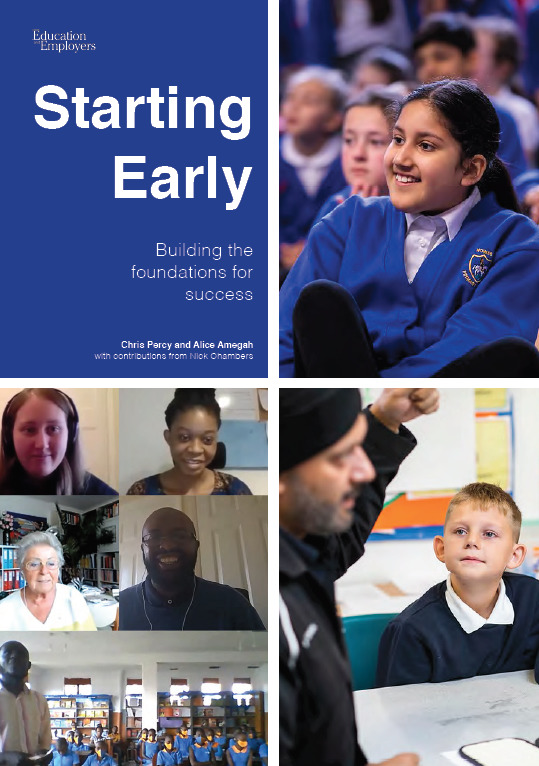 Starting Early shows that the potential of career-related learning in primary schools is far greater than today's practice. We can give children access to role models from the world of work and empower teachers to connect directly with employer volunteers to organise high-quality career-related learning. These activities reduce stereotypes, enhance confidence, foster a positive attitude towards school, and improve attainment.
What are the key findings of interest to schools?
– Starting early is key to social mobility and breaking the cycle of life-limiting forces of entrenched career aspirations that don't tend change from the age of 7 to 17 – unless we provide children with the opportunity to broaden their horizons.
– Primary Futures works wherever you are and however it is delivered – findings were consistently positive across a wide geography of 114 local authorities across the country.
– Virtual activities are as impactful as face-to-face activities – the outcomes of virtual live sessions stack up with face-to-face sessions pre-pandemic.
– More is more – children that heard about more jobs or took part in more Primary Futures activities were more likely to report positive impact, making a strong case for schools to embed career-related learning rather than take part in one-off activities.
– Pupils are more motivated to learn – evidence suggests that career-related learning enriched with employer activities increases motivation, particularly among the most disadvantaged children. After a Primary Futures activity, 82% of almost 10,000 children said they now understand that core subjects can be useful in many jobs, and 88% agreed that doing well in school could help them in the future.
– Relatable role models and enjoyment are key to impact – when children felt they could relate to the volunteers, they consistently reported greater enjoyment and influence from the Primary Futures activity.
– Pupils improve their soft skills and life skills – international studies from other countries show that career-related learning activities can lead to gains in personal attributes like self-efficacy, persistence and creativity.
– Teachers can use Primary Futures sustainably – 94% of teachers said they would recommend Primary Futures to a colleague and 81% said they feel confident using the Primary Futures online match-making system to organise activities in the future on their own, with this proportion even higher for whom it was their first Primary Futures activity.
Download the full report
How can schools mobilise in response to this research?
Want to get involved as a volunteer? Sign up here
"A key part of the solution to the post-Covid education recovery and challenging stereotypes is giving children access to role models from the world of work who can inspire, motivate and help children see why education is relevant." – Karen Giles, Head Teacher at Barham Primary School